I don't think I can do it anymore…Every morning I wake up in a new city, and I don't even know what fuckin' city I'm in. I got the blackouts drawn, so I can sleep for one more fuckin' hour. I eat some fuckin' bagel that's been sitting out for seven days for breakfast. I feel like shit every god damn day, and I don't think I can do one more of 'em.
⎯1 Trait Danger, "Reprisal" 
Everyone wants to live the life of a rock star, right? The members of Seattle-based indie rock band Car Seat Headrest have made that journey, as prolific songwriter Will Toledo worked his way up from DIY obscurity and internet-only releases to his band getting signed to Matador Records, earning widespread critical acclaim, selling out shows, and playing festivals around the world. 
Car Seat Headrest's comedic side project 1 Trait Danger asks and answers the question: what happens once you "make it?" 1 Trait Danger is where the band's truth⎯ or an absurd version of it⎯ comes out: a truth both comically juvenile and satirically brilliant, where the guys make fun of whatever they want, away from the mantle of Car Seat Headrest. 

1 Trait Danger's 2018 debut 1 Trait High was weird, unexpected, hilarious, and an instant cult classic to Car Seat Headrest fans in the know (especially for having come out the same day as their highly lauded Twin Fantasy). 1TD's latest release, 2019's 1 Trait World Tour, draws directly from the band's experience as globetrotting indie rock stars on the rise.
Across their two albums to date, the subjects of their satire include everyone from the music media and vacant music festival partiers to Bitcoin-obsessed geeks and appearance-obsessed bros, along with name-dropping folks like Mac DeMarco, Tame Impala's Kevin Parker, The xx, Whitney, Ed Sheeran, and former President Barack Obama. 
But it's all in good fun – more or less. 
While Car Seat Headrest is synonymous with founder Toledo and cerebral indie guitar rock, drummer Andrew Katz is the creative force behind 1 Trait Danger (with assistance from Toledo), whose brand of comedic music operates in the tradition of Tenacious D, Weird Al Yankovic, and The Lonely Island. Katz is a fervent fan of electronic dance music (EDM), reflected in 1TD's hybrid electronica-meets-rap-meets-rock style, the perfect sonic counterpart for their non-serious subject matter. 
As Katz and Toledo illustrate via livestreams on Twitter, the project is something they work on while dealing with jet lag, or traveling in a tour van, or before their show that night (you can also hear them riffing on the 1 Trait Danger project at the end of "Bodys" on Twin Fantasy). They rope in other members of Car Seat Headrest – guitarist Ethan Ives and bassist Seth Dalby – for voice acting in vignettes or samples, and their recent touring partners, fellow Seattle rockers Naked Giants, also appear on "1 Trait World Tour." Katz does the bulk of the voices in the 1 Trait Danger project, as himself and his own characters, or filtered through layers of electronic distortion. 
Katz is a comedically minded lyrical improviser – as anyone who follows his extremely quality Instagram knows – and talented electronic producer, who also taught himself to code and built a video game called Cossett's World (a reference to 1 Trait High), which the band released with 1 Trait World Tour via the Car Seat Headrest merch store on flash drives. Toledo plays largely behind-the-scenes consultant on 1 Trait Danger's song structure and album sequencing, with occasional voice acting and singing (providing some pretty special soaring harmonies for the project, like he's the frontman of a rock band or something).
In their festival-playing, traveling-musician real life, the members of Car Seat Headrest chilled onstage during Mac DeMarco's afternoon set at a Paris festival, but in the world of 1 Trait World Tour, a character voiced by Toledo pontificates about wanting to just listen to DeMarco copycat bands and mindlessly drink beer in "Glass Boys (Midday Festival Set)," while Katz stubbornly refuses to clap to the aggressive dubstep beat with the rest of the crowd at a Beach House set (Beach House being, of course, perhaps the exact opposite of aggressive dubstep) in the aptly titled track "Clap When I'm Dead." A run-in with Ed Sheeran's manager while 1 Trait Danger is opening for him in Mexico City, thanks to the behind-the-scenes hacking of the mysterious "Multiple Computer Mark," leads to some Ziggy Stardust-esque contemplation of whether being a touring musician is even worth the hassle.
My personal favorite is opener "Softmore Slump" (yeah, spelled like that), which features alternate-universe Eminem bars and essentially summarizes their project, and indeed the struggle of all musicians who put out albums, in one two-and-a-half minute track:
"This is for all the naysayers, all the people that said we couldn't do it again
For every critic out there with a molten lava pen, 
I just have one thing to say to you:
You're probably right…
They quip, 'Can the 1 Trait do it again 
Bring the fire like they did in 2010?'
Wait…what year did that come out again? 
I can't remember motherfucker, I've been hittin' my vape pen…"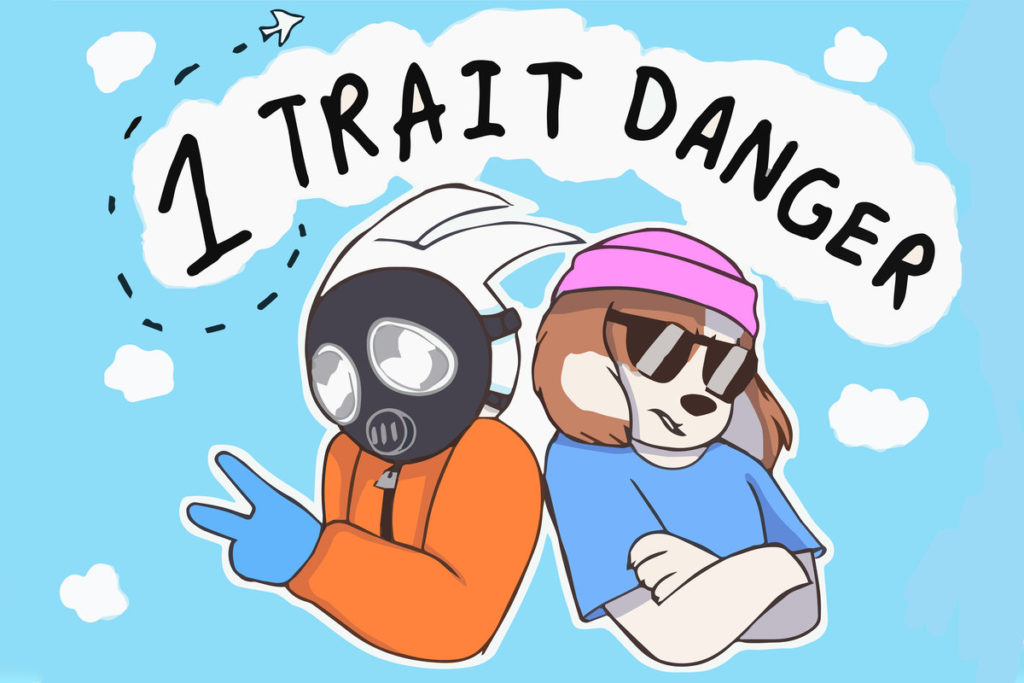 Festival and world domination is proclaimed at the end, after the beat drops: "We're gonna be at every festival, we're gonna be at every show…we're not gonna be playing them, probably, but we're gonna be watching, and judging you!" (Remember, this is not actually Car Seat Headrest…or is it?)
I spoke to Toledo and Katz (separately) to learn more about how 1 Trait Danger came to be, and the creative thinking behind their latest album that feeds off their real life as globetrotting musicians. 
"Having this side project that way less people were paying attention to was a nice way to keep the unexpected, spontaneous side of making music alive – without going outside of the band," says Toledo, whose immaculate indie rock creds and measured tones over the phone belie the hilarity of also helping to mastermind a project like 1TD. "[1 Trait World Tour] ended up having a lot of unintentional parallels to albums that I enjoy, like the chaos near the end of it reminds me of [Pink Floyd's] The Wall, which is also a touring album. But at the time I wasn't really thinking about serious albums…that's what our lives were about, or still are, so we wanted to make a comedy album dealing with the sort of things we're face to face with every day." 
Katz remarks, "Our fun outlet is these bits of comedy. Like on tour, we're laughing all the time, something or other is hilarious. It's how we survive—through comedy." 
"I think we really work best together as sort of a comedy writing team," comments Toledo. "'Cause we'll be thinking of very different ways of getting people to laugh. I find things funny on a structural level a lot…and then Andrew's responsible for the more immediate lyrical content most of the time." 
Indeed, in the world of 1TD, references to cocaine on planes ("Banger on a Plane") and mentions of cucks ("Melbourne, Australia", "On Tour With Eddy (Yo Tengo)") are just par for the course – not exactly what you'd find on a usual CSH album, but somehow it all still fits together.
It's hard to describe to the uninitiated how improbably and enduringly hilarious these songs are – but they really frickin' are. I've been consistently entertained for over a year and a half now – I could pretty much listen to them on repeat all day, alongside Car Seat Headrest's actual music – and it hasn't gotten old yet. And it frankly rules that, in an era of everyone taking everything so seriously, an ostensibly "serious" indie rock band is still able to laugh at themselves and the world around them – and let their fans join in on the fun. 
Toledo mentioned that 1 Trait Danger is planning some tour dates for next year, so you might get a chance to see him and Katz in full 1TD mode while we impatiently await Car Seat Headrest's next album and tour.