Throughout the third edition of their zine, PUP seesaw between flaunting their career accolades and engaging in self-deprecation. The Toronto-based punk outfit is successful by virtue of possessing the means to sell a glossy 22-page zine, complete with international tour dates and tales from their tour bus. Still, they dub themselves "idiot friends" and "losers" and regard their track "Lionheart" as "a hot pile of garbage."
The band's candor makes their zine insightful and comical. These characteristics intertwine in the zine's board game (game pieces included), which allows people to live vicariously and laugh at the tribulations of being a musician.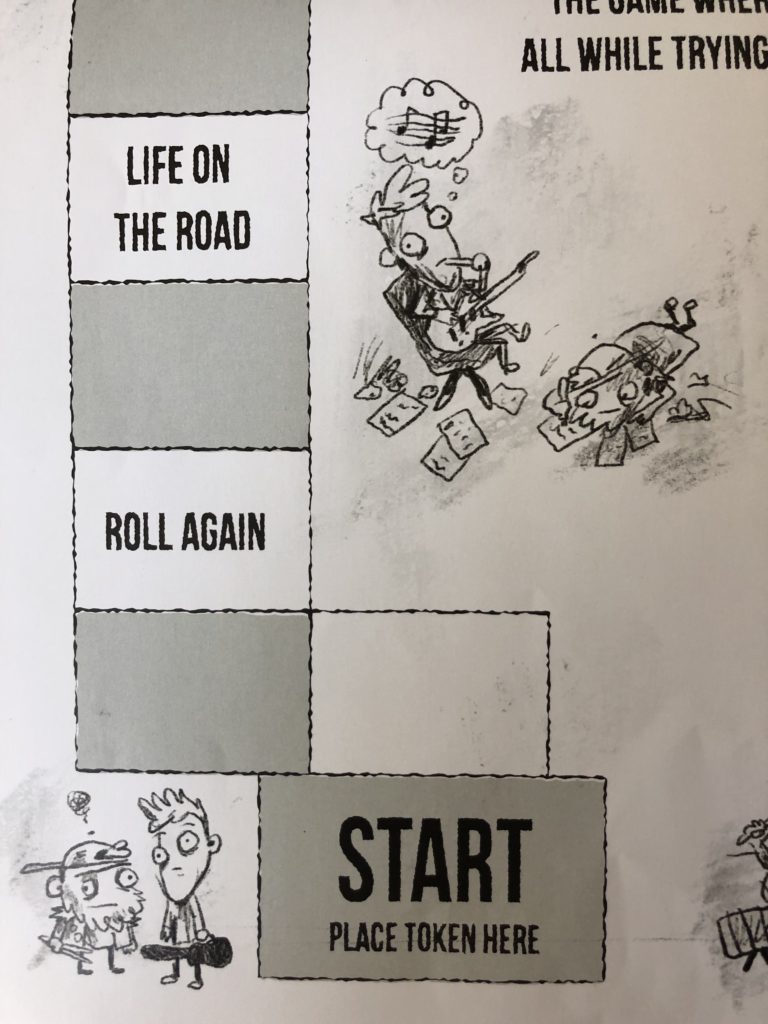 Spaces on the game board labeled "Life on the road!" necessitate an additional roll of the die, with each number begetting an outcome that could actually transpire while touring. Rolling a 1, for example, results in the band's drummer quitting. The spaces labeled "Little Dipper schedules a conference call" function similarly, but for ways a media conglomerate can meddle with a band's artistry, like requesting them to change their name or disapproving of their tracks.

Besides peeling back the curtain on the music industry, PUP does the same for themselves. The zine comes with a flexi vinyl record of two unreleased tracks. "Edmonton" follows the guilt and discordance of attending a loved one's funeral, then playing a rambunctious show merely hours later. PUP opted to exclude the track from Morbid Stuff, the record they released last April, feeling it would be out of place. That was a good call, as the song leans toward an off-brand, growling grunginess. The other is a demo of "Bare Hands," which is deemed awful in the zine's foreword (a stance I don't wholeheartedly disagree with). Compared to the finished product, it feels watered down. 
It's nearly impossible to objectively analyze your own self, which is likely why PUP the Zine, Vol. 3 pulls from other perspectives. Comedian Dave Ross contributed to the zine with a personal essay on how PUP's work has resonated with him, revering the punk genre for frankly depicting depression and asserting that "not only does everyone walk around faking it, they make fun of people who don't fake it." He contrasts this with the idyllic nature of radio pop, which feels disingenuous to him. Ross appreciates that Morbid Stuff is far removed from balminess and adorability, for that makes the record more cathartic and literal.
Diehard fans can utilize this zine to offer more concrete reasons when asked why they cherish PUP. Answering with a mere "because they rock" packs less of a punch than "because they highlighted their fans' artwork in their zine, they remain humble even after acquiring clout, they poke fun at themselves, and they rock."
Anyone interested in picking up a copy can do so here.