My first introduction to Chris Farren wasn't through his music. It was through his Twitter. The singer-songwriter frequently tweets about how hot he is, how talented he is, how perfect he is. Not exactly the humble-bordering-on-self-deprecating content you might expect from someone who's been a mainstay of DIY indie and punk for the last ten years.
Climate change is real i get hotter every day

— CHRIS FARREN (@chrisfarren) September 20, 2019
I instantly gravitated toward his over-the-top confidence and steadfast self-assuredness. He has a magnetic zeal that is reminiscent of a cult leader but, like, a cool one, not a Jim Jones one. And I wanted to be a follower with that same passion – bursting with the belief that I'm perfect and beyond reproach.

But I was the opposite at the time: shy, reserved, directionless. It wasn't until I listened to Farren's music that I realized that we were actually a lot more alike than his public persona would have me believe. His songs – although sonically catchy and danceable – reveal plentiful insecurities and anxieties, about himself and the world around him. Somewhat ironically, this disparity made me fall even deeper into his world, in a "Stars: they're just like us" kind of way.
Farren's newest full-length, Born Hot, follows this same vein. Despite the title itself and the cover art (which is a rendering of Farren's lounging half-naked body that he drew himself), Born Hot is actually an unabashed and deeply personal exploration of self-worth and the evolution (and dissolution) of relationships – romantic, platonic and familial. 
"The content of my songs is antithetical to my presentation," Farren explains of his online presence versus real life. "There have been a few times where I've thought, 'I'm marketing myself as the opposite of what I am.' Which seems like a bad idea, but I like it."
We're sitting in a Starbucks in Nashville on the final night of his month-long tour with Macseal, Youth Fountain and Free Throw. In real life, he's not his online persona in the slightest. He's down-to-earth and humble, sometimes bewilderingly so. 
He's wearing black Adidas track pants and a striped, short-sleeve button-up that's open to reveal his white, ribbed tank top. The only difference between now and when he goes on stage is a little glitter he adds to his face, a 50-foot mic cord and a white banner on which he projects animations he has drawn.
His outrageous live shows are like no other. So, in 2018, on the heels of finishing up his band Antarctigo Vespucci's Love in the Time of E-Mail, Farren started crafting Born Hot in the style of his performances. His flyers frequently feature his own tender, unselfconscious artwork, while messages on backdrops at his shows declare each one a perfect set. In other words, what you hear is what you get.
Born Hot is a delightfully diverse mix that is tied together by Farren's smart songwriting and careful storytelling inspired by what's really going on in his life, beyond his well-crafted internet façade.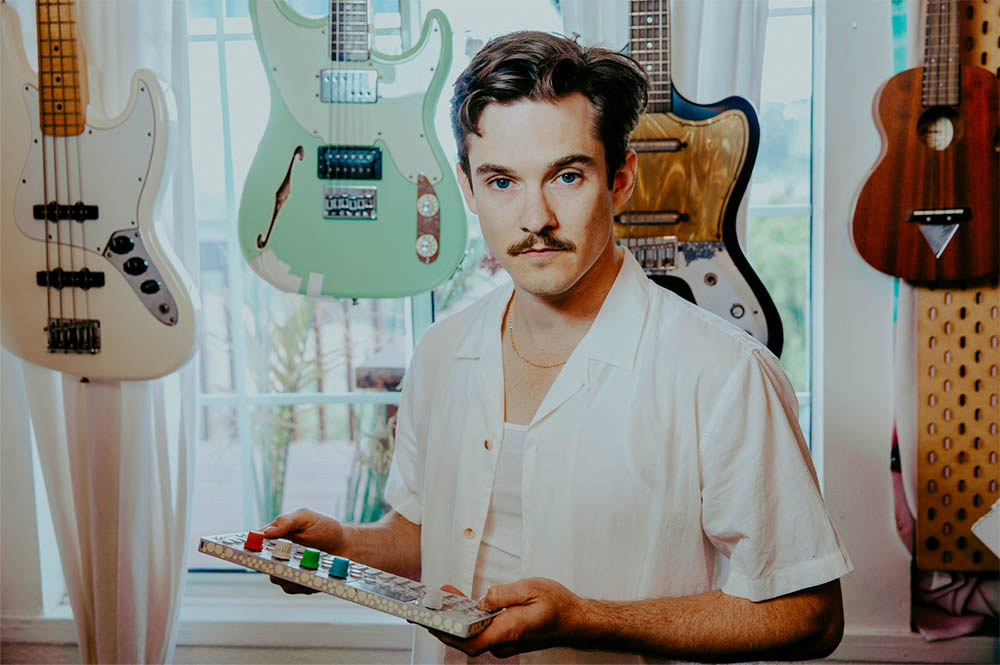 "My intent is to always convey my feeling," he says. "Even if it's somebody who has hurt me, I still don't want to weaponize my music against somebody."
The record contains a handful of '60s-inspired love ballads, including the sugary sweet "Space in Yr Love," which calls to mind bands like the Ronettes or Martha Reeves and the Vandellas. When it comes to writing these types of songs, the language of love comes naturally to Farren. He likens his record to photo albums where he can detail experiences between him and his wife.
"With a love song, it's a lot easier because my true love songs are about my wife, who I know pretty well. I feel more freedom with talking about our relationship."
One of the most intimate storylines that appears on Born Hot deals with the death of Farren's father-in-law, which occurred last year. Dotted throughout the album are references to this event, and Farren honors his father-in-law in a touching way by including a recording of him speaking at the conclusion of "Floruit De Maga."
Yet songwriting overall can be an isolating process for Farren, especially because he undertook much of the work for Born Hot solo. This record was even more difficult because Farren felt an enormous amount of pressure to live up to – or exceed – expectations for the Antarctigo Vespucci album that was released in October 2018.
"Whenever I'm writing a record is definitely the closest that I am to having a nervous breakdown," Farren says. "I feel so self-critical to an extreme fault. That can take me to a pretty isolated place. It's very hard for me to compartmentalize when I'm writing. It definitely seeps into my overall life."
think about Chris Farren

— CHRIS FARREN (@chrisfarren) August 20, 2019
Throughout the record, Farren explores his deepest emotions and navigates battles with himself. He starts off with the bold declaration, "I hope you never see me like the way I see myself," in the powerful, guitar-driven opening track, "Bizzy." In the buoyant and carnival-esque anthem, "Does the Good Outweigh the Bad?" he bemoans, "It hurts to be alone, but I'm afraid of everyone." And on the following bop, "I Was Amazing," a wistful yet energetic tune, he sings, "Oh God, it's so devastating the ways I measure my worth," a gut-wrenching truth. 
"When I hit on something that feels true to me, it makes me feel excited because I'm like, 'Oh, wow, I'm not just saying something; I'm saying something that I really feel,'" Farren explains. "It makes me feel excited to purge a feeling. Even though I know that it'll remain in me, there's something so gratifying about getting something out there."
Farren found that drawing helps him overcome some of these melancholic feelings. At the end of writing and recording every day, he would draw as a way to unwind and to feel a sense of normalcy again. 
But Farren wasn't totally alone during the making of Born Hot. He's joined on the latest album by fellow musician friends, including Jenny Owen Youngs (who also produced the record), Jeff Rosenstock (also a member of Antarctigo Vespucci), Laura Stevenson, Stevie Knipe of Adult Mom and Tyler Broderick of Diners.
"I feel lucky that those people were happy to do that stuff on my record," Farren says. "It was easier for me to like the songs because it's really hard for me to feel proud of something that is solely my creation. When I have my friends in on it, I can be like, 'Oh, this is a cool thing.'"
So, no, Born Hot is not an overt declaration of Chris Farren's perfection. It's so much more: something real, and relatable. And that's hot. 
Photos by Erica Lauren