The Aquadolls are doing it all. The Southern California band effortlessly pours out infectious shoegazey bops, earnest headbangers, cosmic surf-punk ballads, and electrified power-pop anthems— on a self-made label, no less. Despite the sheer range of styles and genres reflected in their music, there's a real cohesion to The Aquadolls' addicting combination of sharp edges and even keel. No matter what vibe a given song has, whether it's the vengeful promises of "Bleach" or the nonchalant self-empowerment of "Do My Own Thing," it's clear The Aquadolls are putting everything they have into the music they're making.
On latest album The Dream and the Deception, singer/songwriter and founding member Melissa Brooks moves from croon to snarl and back again so naturally you'd swear this second full-length was her tenth. Her lyrics land hard hits in the midst of the floaty dreamscapes created by bassist Keilah Nina and drummer Jackie Proctor. On the heels of the "Suck on This" single which dropped in July, in the midst of writing new material and wrapping up their December tour, The Aquadolls are keeping busy thanks to the tireless momentum they've built. We talked to the band about the joys of finding a perfect lineup, the challenges of starting your own record label, and the importance of being a bad bitch. 
Hard Noise: What are the origins of The Aquadolls? When did you get started writing music and how has your process evolved since then? 

Melissa Brooks: I formed The Aquadolls in 2012 when I was a senior in high school and had dreams of fronting an all-girl punk band. I would play house shows, warehouses, tattoo shop alleyways, literally anywhere that would let me play. At the time, I had all boys in the group. Everything finally clicked and made sense once Jackie and Keilah joined the band! 
As for the early days of Aquadolls writing, a lot of We Are Free EP and Stoked On You was written in class in high school and my freshman year in university. I would daydream in class about literally anything but what the lecture was about and would write poetry, then I would go home and put music to it. Sometimes I write songs in the shower, when I'm in the car, really anywhere and anytime I feel inspired. Now not much has changed about my writing style, other than that I have two badass ladies to collaborate on musical ideas with! 
HN: Jackie and Keilah, how did you get started with The Aquadolls? Stepping into someone else's established project can be a lot. What was that transition like? 
Jackie Proctor: Melissa actually recorded one of my past all-female bands, and as time went on, both searching for new people to play with, she needed a drummer, and I needed a new band to be in. So we ended up jamming in my living room and Keilah was actually just hanging out with us at my house one day. We asked Keilah if she wanted to jam and play keys (keyboard) and then that led her to picking up the bass. Now she is just on bass and kicks ass! 
Keilah Nina: I had actually been listening to the Aquadolls since I was in middle school, and by the time I was a senior in high school Mel and I had become pretty good friends. Like Jackie said, I was at her house while her and Mel jammed and Mel asked if I knew how to play keyboard and I said no, but she taught me the entire set on keys and I played my first show the week after! I had been playing bass for years and I'm actually not sure why I didn't start playing it in the band sooner, but I'm a full time bassist now! 
HN: How has The Aquadolls' sound, process, and overall vibe changed since the three of you came together? 
MB: I feel our sound is shifting into something much heavier than some of the older stuff while still maintaining the California energy and beach-like aspects within the instrumentation. For example, I will always love atmospheric reverb and lots of harmonies, but now we are starting to write music that has a little more distortion and a lot more kick-ass energy. "Suck On This" is the first song we wrote together as a group, and I am excited to start recording new music with the girls early next year! 
JP: I think the vibe has changed in a really awesome way, since we are all girls. But the most important thing I've noticed is all three of us have a very strong passion for music, and we are doing it to fulfill ourselves. Within that, we hope to spread that happiness and passion we feel wherever we go and to our fans and people we meet. We just want our shows to make someone's day a little better and to make people happy and have a crazy good time! Maybe even inspire some people on the way. 
HN: Who are some of your biggest musical influences? Any bands or artists that would surprise people, outside the expected genres? 
KN: Some of my musical influences are bands such as Kittie, Jack off Jill, Toy Dolls, The Adicts, Patti Smith, KISS, and lots of musicals. Growing up with deaf parents meant a lot of experimenting with finding music that I enjoy. My favorite genre is definitely '80s punk and '90s metal. I grew up loving musicals, and The Rocky Horror Picture Show has had a really big influence on me as well. 
MB: My musical influences vary from oldies, nightcore, pop, and indie. I was raised on The Beach Boys and Britney Spears. Joan Jett and The Runaways are who made me want to start playing guitar and make an all girl band, and Paramore helped me figure out at age 15 that I wanted to front a band. Other artists that inspire me are Charli XCX, Courtney Love, 100 gecs, S3RL, and Smino. 
JP: Foo Fighters are super inspiring for me. Some others would be Queen, Rob Zombie is sick, and Ozzy Osbourne for sure. I also love musicals, I would have loved to play Annie or Rooster in the musical Annie. 
HN: How about other influences: books, movies, artists? 
KN: Carrie is one of my favorite books of all time. While I can't relate to being a telekinetic teenage girl with an anally religious mother, there's definitely elements that I could relate to in the book. I also enjoy Shakespeare, and I have since about middle school. My favorite play is either Twelfth Night or A Midsummer Night's Dream. I really like horror movies, and I think I draw quite a lot of inspiration from them. Some of my favorites are Carrie, Child's Play 2, and any slasher movies really.
MB: I feel like my life is inspired by '90s teen movies like Clueless, The Craft, and Can't Hardly Wait. 
JP: One of my favorite movies is the comedy The Birdcage with Robin Williams. Such a great movie, always makes me laugh. 
HN: What do you like to do to decompress after a show or tour? 
KN: I usually facetime my parents or my boyfriend at night just to help me relax and keep them updated after a long tour day. I'm pretty close with them, so getting to talk to them makes me really happy, especially on long tours. After that I like to watch a movie and then go to bed. 
MB: I love to lay down and put on some mid-2000s reality TV show on my laptop like Charm School or Flavor of Love. Either that, make a beat, or just eat some food and pass out. Maybe even a combination of all of the above on a good night! 
JP: Sleep. Sleep for sure. 
HN: Can you talk a little about Aqua Babe records? What made you want to start your own label? What have been some of the triumphs and challenges of that? 
MB: I started Aqua Babe Records in 2018 because I wanted to take back control of the content I get to share with everyone. After working with some people for a good chunk of the early part of The Aquadolls career, I was forced to be put on halt and couldn't drop music for so long. Once all that was sorted, I knew I wanted to be able to drop whatever I wanted whenever I wanted, so that's why I started my own label. 
One pro of having your own label is you have full control, which is nice, but also I am super broke and self-funding everything, which is very hard. I was able to save up enough money to have the remastered version of The Dream and The Deception pressed to CDs, which is the only physical Aqua Babe item you can get now. The money I earned to press vinyl ended up going towards funding our tours this year, so I'm continuing to save up to hopefully do vinyl and for sure cassettes next year. I would love to continue Aqua Babe as the band grows, as well as drop solo stuff under that label in the near future. 
HN: What advice do you have for aspiring girlpunks looking to get into music, whether that's bands, recording, or starting labels? 
KN: I would say just keep charging through and do what you love. It's okay to make mistakes. Surround yourself with like-minded people if possible. Just make sure what you're doing is making you happy, and know that it's okay to take breaks if needed. No matter what, music is a fun and happy escape. Never let go of that. 
MB: Never let anyone bring you down for what you stand by and believe in! Whether its music or just integrity, stand your ground and be a bad bitch! Do everything you can to get your name out there, whether its playing shows or dropping music, just make sure to be as active as possible, because it's fun as heck!
HN: What do you want people to feel, think, or do when they hear your music? 
MB: Just making people feel or think ANYTHING is rad to me. Certain songs have specific stories and meanings to me, so it's always interesting to me when listeners share with me how the song makes them feel! 
HN: Who are some of your favorite bands you've played with recently?
MB: I miss Space Kiddettes and Dream Wife! 
HN: What's next for The Aquadolls? 
MB: Once we finish up this December run of our tour, we plan to continue to write new music together and hit the studio! We also have another tour planned for early next year that we will announce REAL soon as well as some festivals, but that's secret for now! Just know that we will be real busy in 2020 and you can expect new music, videos, vlogs, and lots of shows.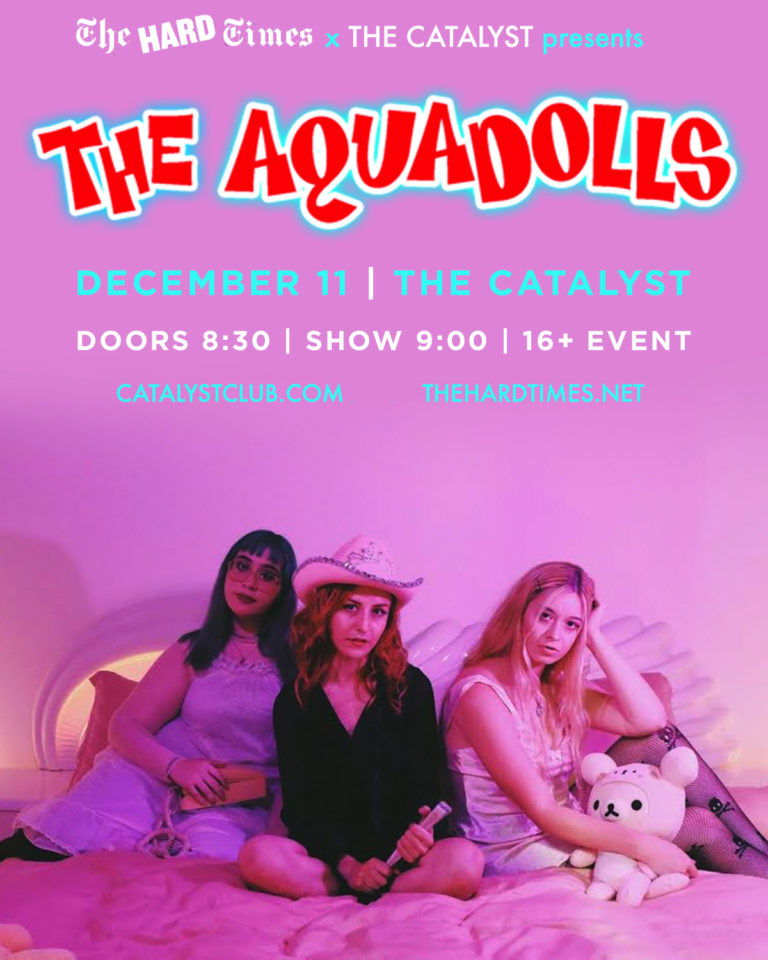 Catch The Aquadolls at The Catalyst December 11th