Unless you've been living under a rock for the past 50-plus years, you've probably heard of a band called The Grateful Dead. Though their devoted fanbase never seems to die, periodic revivals (like the relatively recent release of the Cornell 5/8/77 set) have kept them in the public imagination. They remain a phenomenon to some and more of a curiosity to others (particularly those who share my distaste for jam bands), but  it doesn't take Timothy Leary levels of LSD consumption to realize they've had a cultural impact that spans across decades, industries and generations.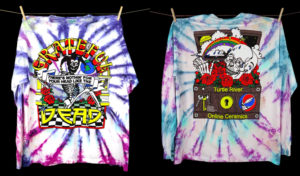 Their legacy created an intensely dedicated fandom built on community, compassion and creativity. Some argue that the Grateful Dead fandom is just as impactful as the band—and it's understandable why. Grateful Dead fans have created enterprises of bootleg merchandise that are just as rare, unique and renowned as the officially licensed band gear. When members of the original Grateful Dead passed away, remaining members and friends rallied together to create Dead & Co., and have continued the Grateful Dead legacy with tours spanning all across the United States and into Mexico. No matter how many years have passed since the relevance of the hippie movement began fading, people continue to be inspired by their legacy—including a couple of t-shirt designers from Los Angeles. 
What started off as a Grateful Dead-inspired line of psychedelic shirts turned into a worldwide phenomenon for music lovers, film buffs and style icons. Even though it's hard to tell from their extremely '90s webpage, Online Ceramics was started in 2016 by Elijah Funk and Alix Ross and has since gained cult status within all sorts of subgenres. The shirts first gained notoriety for their trippy, hallucinogenic phrases that seem like Grateful Dead quotes, but are actually original statements and thoughts embodying a happy, self-aware lifestyle (with a sprinkling of creepy horror vibes). Almost overnight, the brand exploded—from picking up a fashion account at Union Los Angeles to selling sweatshirts designed for John Mayer and Dead & Co.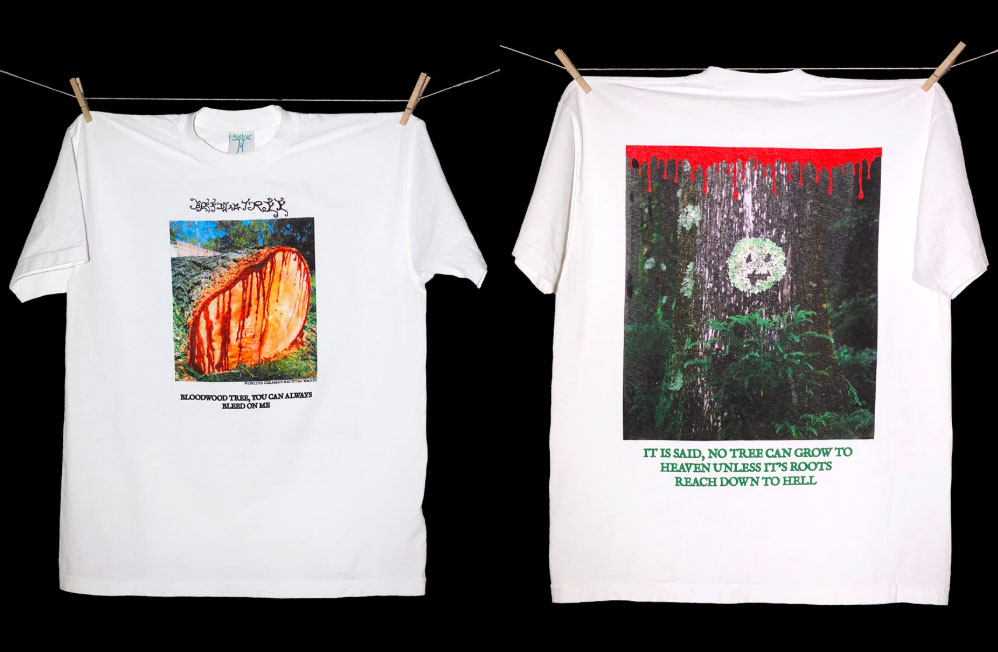 Online Ceramics combines art, sculpture and narrative storytelling into a cohesive, digestible piece of clothing that you can wear—something that makes it appealing for people of all demographics. Both Funk and Ross are rooted in punk backgrounds from childhood, and their shirts still retain that edgy, DIY-personal touch that makes each piece a commitment, an engagement and a separate relationship. As famous non-punk John Mayer once said, "I think of Online Ceramics like a band, and the T-shirts are the albums, and I want to collect all of them." Ultimately, Online Ceramics isn't exclusive or elusive, it's accessible to all. It's just, popular. 
The effortless cool behind Online Ceramics isn't in their personal mythology (or the links to yoga studios and local agriculture farms on their website), it's behind the mystery of their interactions. How did two guys in Los Angeles collaborate with John Mayer at the peak of the freshly renewed interest in the Grateful Dead? Turns out, it just happened. Mayer heard about Online Ceramics from a friend and loved the items, giving the new brand managers the chance of a lifetime. This is a recurring theme.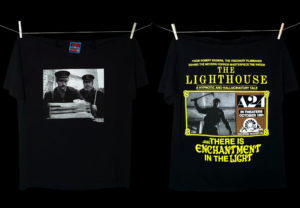 Funk and Ross have been fans of the increasingly popular film production studio A24 for years, and had tried getting in contact with their branding or marketing department for the opportunity to make shirts coinciding with some of their releases. It started with Hereditary—the A24 tale about the impending doom a family faces when cursed for eternity by a demonic god is a favorite of the duo. Through a coincidental connection between mutual friends, Online Ceramics got the opportunity to make merchandise for one of the hottest, upcoming companies in film. Needless to say, the Hereditary merch sold out instantly. But it paved the way for further collaborations on films like Ari Aster's Midsommar, Robert Eggers' The Witch and Eggers' next film The Lighthouse (all of which are sold out on the Online Ceramics and A24 websites).
I managed to snag a Lighthouse shirt only a few hours after the merch drop, with at least three different sizes already completely sold out. As the owner of one piece of Online Ceramics merch, I can proudly say it does feel different and special. Online Ceramics is exploring motifs and elements of design that aren't common, and their branding is focused around positivity and spiritualism—small, but common threads that tie us all together. If a brand can manage to make a name for themselves by being purely themselves, then it's my hope that Online Ceramics continues to have more interesting partnerships in the future—and that I can maybe get the chance to order another shirt.