According to the U.S. Census Bureau, Lincoln is the second largest city in Nebraska. With 287,401 people, the state's capital is one of only two cities in The Cornhusker State with a population over 100,000. When it comes to live music, there's a very different set of challenges facing the area compared to more densely-populated places. 
Like many college towns, Lincoln provides a kind of haven for the music scene. Its biggest festivals are Lincoln Calling and Lincoln Exposed, which started in 2004 and 2006, respectively. In recent years, Lincoln Calling brought in big names like PUP and Charly Bliss. Restricted to Lincoln bands, Lincoln Exposed lineups include over 100 local bands performing across downtown bars.
There is a lot of music in the Star City, but like most of Nebraska, it lacks racial diversity. Lincoln is predominantly white. Its largest musical star is Maroon 5 lead guitarist James Valentine. Going beyond Lincoln, Nebraska's most famous musical exports are the band 311 and singer-songwriter Conor Oberst. These bands don't exactly reflect what's going on at the grassroots level.

In 2018, University of Nebraska-Lincoln student Aramara Quintos Tapia shifted the spotlight by creating Latino Lives, Nebraska's first and only Latinx-focused music and arts festival. This is a very big deal in a red state like Nebraska, where 10 percent of its residents identify as Hispanic or Latinx. 
Despite the name, the Latino Lives stage is open to any musician of color. And musical diversity is part of the deal, too. At the most recent Latino Lives benefit show on Dec. 22, Omaha rapper DEATHGOD and Lincoln psychedelic house DJ duo Mental Disturbance also performed on the mixed bill. 
Latino Lives exposes the Lincoln community to the wide variety of music that Latinx musicians are making (and always have been), especially punk, hiphop, indie, and rap. It's not just traditional mariachi and cumbia—although Quintos Tapia is open to having those acts on board, as well.
Latino Lives is about using music to celebrate diversity and provide accessibility. The idea formed when Quintos Tapia and her "basura punk" band Histrionic, which she fronts, played at Queerfest in 2017, a local music festival that centered on LGBT artists.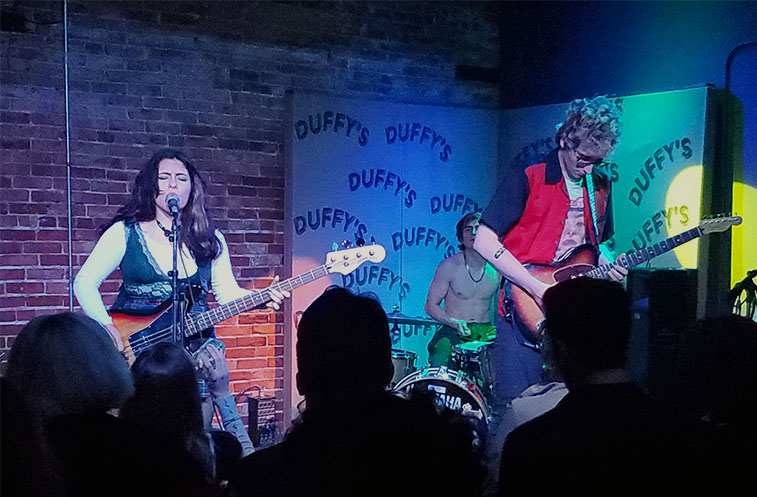 "There are no requirements to play at Latino Lives," Quintos Tapia said. "I just ask the bands and artists that I think would be a good fit for the fest and try to work it out with them. It doesn't matter what genre they are or if they're just starting out, or anything like that. I'm really just trying to book a fest where everyone enjoys themselves and can remember back on it fondly after time."
Emilio Meza of Lincoln lo-fi indie band Verse and the Vices was approached by Quintos Tapia to play the first Latino Lives benefit show in February 2018. His band has played at both Latino Lives festivals.
Verse and the Vices, which usually has a lounge-y sound, wrote new, heavier songs for the inaugural festival to segue between the hip hop acts that proceeded them and the punk and hardcore bands that finished the night. It's proof positive of the way local music fests, especially ones that highlight the unique characteristics of a given music scene, are essential to keeping the scene alive. By uniting so many different types of artists, Quintos Tapia is helping Lincoln musicians evolve and find new inspiration. 
"Aramara is doing a lot for the Lincoln scene with this," Meza said. "Latino Lives is a unique opportunity for marginalized segments of the community to showcase their talent and stories. It is more than the music and art; it's a movement."
Quintos Tapia started organizing Latino Lives when she was 18, using her own booking experience and DIY ethic.
"I'm very grateful for the constant support that I've gotten," Quintos Tapia said. "It makes me feel like I'm being heard as a promoter and musician, and that's a good feeling for someone who started not knowing anything about the music scene when I started playing shows."
Latino Lives is growing into a mainstay Lincoln festival. It even had a couple hours blocked off at a Lincoln Calling 2019 stage for a showcase. Now entering its third year, Quintos Tapia is looking to bring more touring acts to Lincoln, which the raffle at the most recent benefit show will hope to bring.
Just as the festival is not limited to strictly Latinx performers, Latino Lives is open to non-Nebraskan artists. Musicians from the Midwest have journeyed to Lincoln to perform, such as Chicago rock trio Division Point. In fact, Latino Lives 2019 was the band's first out-of-state show.
"The festival was amazing and Aramara did a great job planning it," Division Point guitarist Danny Garcia said. "She made sure that bands were going to show up."
Division Point was slated to play another show that June weekend, but Nebraska's sea of corn called for them as a mutual friend connected the boys and Quintos Tapia. The band is open to playing in the festival again so their new drummer, Jeremiah Elam, can witness the excitement of this newly budding movement within the Lincoln music scene. 
"Nebraska went hard," Garcia said. "The crowd made us feel welcomed, especially for being out of state. It was great to see the crowd get bigger throughout the night."
Playing at something like Latino Lives was not something new for Division Point as they played at Pilsen Fest, a similar festival that celebrates Latinx culture in Chicago. What was new to them was the fact that this kind of music culture lives in places like Nebraska, a state that has a smaller population than their city.
"Listening to the other bands, it was intimidating as outsiders," Division Point frontman Danny Gaytan said. "It also gave a clear view that people are playing music everywhere."
Latino Lives 2020 currently does not have a set date and location, but its first two iterations were held in June. Quintos Tapia hopes to cement the details soon, but she's not too worried.
"When I was booking a lot of DIY shows, it taught me how to be confident in myself and just going for it," Quintos Tapia said. "Bigger bands that you might not think respond to you are more often interested than not. It's also allowed me to have a large network of people to ask for help when I need it which comes in handy when you're only one person booking a fest of the size of LL."
For people who can't attend or promote these kinds of local events in person, Quintos Tapia says even just reposting a flyer or spreading the word on social media can make a big difference.  
"It really helps the more people repost on their social media as often as they're willing," Quintos Tapia said. "I don't really like accepting donations or anything like that unless I'm giving something out in return."
Facebook was how Lincoln resident Jaxsen Valenta discovered the festival. Valenta attended Latino Lives and the December benefit show.
"The environment was so welcoming and it made me feel comfortable that Lincoln has many safe spaces," said Valenta. He compared the wide variety of music to what you might see at a typical house show or an open mic.
"There is no way to express how you feel like through music," Valenta said. "Can be just as simple as singing with a beat or being a five person band."
While there's never been a particularly good time for minorities in the Unites States, the current moment feels especially heightened and dangerous. In times like these, giving musicians and music lovers a space to share stories, celebrate culture, and unite artists across different styles and genres is necessary.  
The harmful attitudes encouraged by the present administration will die out. Meza says that people need to stick together and keep fighting it until then.
Quintos Tapia's festival provides a crucial platform. Whether it be on a national stage or in a DIY space, having a voice is important, and powerful. This makes Quintos Tapia a key figure in the Nebraska music scene.
"She's going to take over the world," Meza said, "and we're glad to be in her corner."