After Mike Watt played his first final show with fIREHOSE on February 12, 1994 at the Warner Grand Theatre in his beloved San Pedro, California, the bass great was without a band for the very first time in his career.
As the man himself tells it, "It was a bit of an unintended consequence. What came about was I had always been in bands, be it with Georgie and Edward in fIREHOSE and before that with Georgie and D. Boon in the Minutemen. Honestly, I didn't think anybody would want to hear me play without D. Boon, and then Edward came from Ohio and we got that going with Georgie. But there I was without a band for a time, and I wanted to make a record where I wanted to test this theory of coming into my music from a different way.
"When me and D. Boon first started the Minutemen, we flyered the world into getting more gigs. And to be honest, we always used recordings as flyers to get people to the gigs as well. But for Ball-Hog, I had this idea of not just using this recording thing as a flyer to promote the next show, but rather as a laboratory experiment. I thought the bass player would make the song, and anybody could come in and play bass, keyboards, guitar, mandolin, whatever the fuck [laughs]. In the Minutemen, D. Boon switched up his guitar sound so the bass guitar and drums could have more equal footing. I go back and listen to guys that I looked up to growing up like Jack Bruce and Geezer Butler and Larry Graham and James Jamerson and Chas Chandler; these guys weren't just sidemen, they had the strength to run the band themselves. But this is what's all going into my thinking as I was heading into Ball-Hog or Tugboat?."

Watt, who always saw the recordings of both fIREHOSE and The Minutemen as a means to promote their endless touring, instead chose to utilize his renewed contract with Columbia Records to craft a solo debut to pay homage to his weapon of choice: the electric bass. It was then he began to dip into his longtime interest in professional wrestling to start the blueprints of what would become Ball-Hog or Tugboat?, released 25 years ago this past 2/26.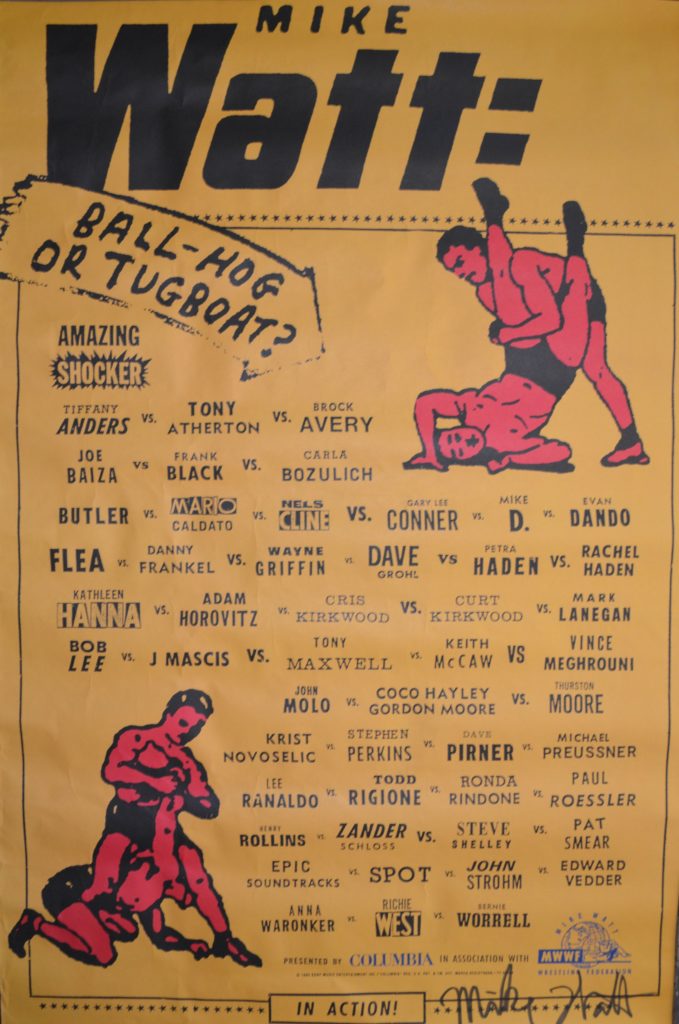 "I would go into the studio and have a different band for every song," Watt explains. "Then I'm gonna throw the bassline at them, and see what they come up with. So then I got the metaphor going about the wrestling ring. Me and D. Boon would go to see a lot of high school basketball, but we'd also go see a lot of professional wrestling locally as well. Of course, we left out the spiels about the good guys and the heels and all that, but the main idea was that you came into the ring, dealt with the bassline in a way to aid and abet the song as best as you could."
Lucky for Watt, his longtime friend Raymond Pettibon had a number of wrestling themed drawings hanging around his studio when the bassist stopped by for a visit.
"Raymond Pettibon had a big stack of stuff, and a lot of wrestling themed art, and that was the one I picked out," Watt describes. "A lot of people don't seem to understand the cover, but me knowing how I made the record, it seemed like such a perfect metaphor for the process."
Soon after, he began making calls.
"I did three different towns: West Hollywood, Seattle, and New York City, only a couple of days each," Watt explains. "I'd just call people up to see if they were around and free to come on down to the studio. I didn't go through any managers or anything like that, it was all just direct reaching out to friends and friends of friends. It was similar to how we did the Minuteflag EP with Black Flag, just a very casual thing."
Pretty much everyone he contacted was down to jam, and Watt found himself with no less than 50 willing participants, ranging from an infant Coco Gordon Moore to funk icon Bernie Worrell (reprising his role on a cover of Funkadelic's "Maggot Brain" with J. Mascis in the Eddie Hazel seat) betwixt a commune of modern music acts, ranging from cult heroes to household names. So for those of us who picked up Ball-Hog for the members of Pearl Jam, Beastie Boys, Red Hot Chili Peppers, Nirvana and The Lemonheads, we came out as fans of such underground figures as The Geraldine Fibbers (featuring future Wilco guitarist and renowned jazz bandleader Nels Cline), Epic Soundtracks, Bikini Kill, and Saccharine Trust thanks to the experiment.
"There was a lot of camaraderie in the music community in the '90s, in Seattle and out of it," says Screaming Trees guitarist Gary Lee Conner. "Playing around the country and Europe with different bands before we became part of the Seattle scene, we were able to make friends with members of bands all over the country. Sharing a label and tours helped to make Mike Watt one of our friends and he was always very supportive."
For Conner, who sets the bedrock down for Ball-Hog's big hit "Against The 70's" as part of a momentary supergroup featuring Eddie Vedder, Dave Grohl, Krist Novoselic and Geraldine Fibbers singer Carla Bozulich, recording with Watt was the thrill of a lifetime.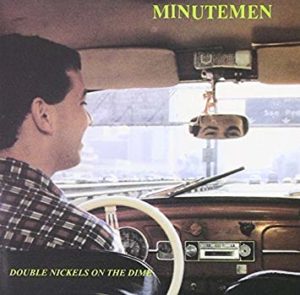 "I had several Minutemen records, some that I had ordered straight from SST," he explains. "Of course when we got signed to SST in 1987 it was a dream come true. We soon got to open for many of the bands we were fans of including fIREHOSE. The first time was in Walla Walla, WA and we were totally in awe of Watt and Hurley. Soon after, we opened the Sidemousin' tour for them in 1988 and then played some other shows here and there with them. It was especially great when Watt would sit in our van and tell us old stories about the Minutemen and D. Boon.  Once I was sitting in the van with Mark Pickerel in back and Watt was in the driver's seat. He started looking oddly in the rear view mirror. I looked at Mark Pickerel and I realized that Watt was recreating the cover just for him. That was a mind blowing moment I'll never forget."
"I love that so many people got together and worked on this album," adds vocalist/violinist Petra Haden, who sings harmonies on the album alongside fellow that dog. members Anna Waronker and twin sister Rachel Haden. "I think it's cool how some of the musicians had never worked with each other before and it came out to be a legendary record."
For Haden, the inclusion of she and her sister was made even more special given the connection that existed between Watt and their dad, legendary jazz double bassist Charlie Haden.
"My dad sat in with the Minutemen at McCabe's Guitar Shop in 1984 when they opened for the Liberation Music Orchestra," Haden tells Hard Noise. "I don't remember a lot of details, but I do remember how much fun everyone was having, and right before playing on the song my Dad said, 'Now I can tell everyone I played with the Minutemen!' The song was 'Little Man with a Gun in His Hand.' How this came together was the late John Chelew, who was the concert booker, told my brother that the Minutemen were big Charlie Haden fans. A few years later, Watt produced my brother's band, The Treacherous Jaywalkers, on SST Records."
In some cases, however, the star power proved to be a bit too bright for the construct of the "proj," as Watt calls it, as in the case of the brief club tour Watt expedited with opening acts in Grohl's newly formed Foo Fighters with Germs guitarist Pat Smear, Will Goldsmith, and Nate Mendel of Sunny Day Real Estate—as well as the experimental space rock group Hovercraft, featuring a moonlighting Eddie Vedder on drums.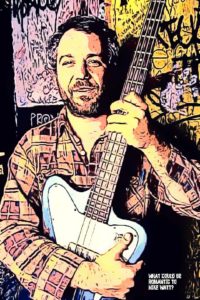 "The tour was something Dave Grohl approached me with," Watt reveals. "He had been recording the first Foo Fighters album and said to me, 'Hey, I could be in your band and I could open up for you.' So I said OK, though I had never done anything like that before. At first I thought it was going to be impossible, but we got some prac'n, put some songs together and did a month-long tour.  It was great to play with Pat Smear as well; it was a real honor. When I first saw The Germs, I felt like they were arena rock to me, y'know? And here I got the guy standing next to me onstage. That tour had its problems with all the hype stuff because Eddie and Dave were with us, but we had a lot of good gigs. There was one in Chicago that we got filmed for Jam TV. It was done at the Cabaret Metro and it's out there online."
Actually, although Eddie only theoretically appeared on two cuts off Ball-Hog in "Against The 70's" and the barrelling opening number "Big Train," his presence was felt across the entire proj, in ways both positive and otherwise. 
"I always wanted to hear Eddie Vedder sing 'Dirty Blue Gene' from Captain Beefheart's Doc at the Radar Station," Watt admits. "Just the sound of Eddie's voice and his phrasing was so perfect for a song like that. Eddie didn't know much Captain Beefheart in those days, but he did love The Who. So at the end of the day, I had this song that I thought had the same vibe as 'Christmas' off the Tommy album, and I said to Ed, 'Dude, why don't you try this one?' And he had this ripped up fucking wetsuit on, sweatin' away there, and he banged out 'Against the 70's' for us. He really got into it."
"My recollection is that Watt approached Evan Dando and me at the same time," explains Blake Babies/Lemonheads guitarist-turned-Rounder Records CEO John Strohm about how he and Dando wound up on the album's other key single, "Piss Bottle Man." "We both knew Watt pretty well, though he and I were closer because we'd toured together a lot over the previous few years. Evan was a better 'get,' but Watt liked my guitar playing and I was on tour with The Lemonheads at the time.
"Vedder was in the studio when Evan and I got there, just hanging out. I later learned that he was there to sing after Evan and I finished, but it was just Eddie, Watt, and the engineer. Evan and I had sound check a couple blocks away for our show that night at Fairfax High School. The plan was to finish our parts before the mid-afternoon sound check. Evan finished and left, and Eddie wasn't particularly friendly because I later learned he'd had a bad first impression from Evan years earlier when his old band Bad Radio had opened a show for Mudhoney and The Lemonheads. But after Evan sang and I started on my part, Eddie started to open up a bit more and he eventually became very friendly. This was summer of 1994, and Pearl Jam was the biggest young band in the world. But he was very friendly to me, and down-to-earth."
Recalls Dando, "It was so funny doing that song with my buddy John Strohm. Eddie Vedder came down to give me shit about when his old band Bad Radio opened up for us and Mudhoney in San Diego in 1989.  He made a fire and he gave it to me and apparently I dropped it and walked away. So he said he came down to the studio that day and he was miming the lyrics in the middle of the studio room where I was doing the singing. It was really funny. He's a really nice guy though, Eddie."
Yet despite an expected couple of minor ego clashes, Ball-Hog Or Tugboat? nonetheless succeeded in launching Mr. Watt's wild ride of a solo career these last 25 years with such classic albums as Contemplating The Engine Room, The Secondman's Middle Stand and Hyphenated-Man, not to mention scores of different side projects, most recently last year's triple header with mssv, Jumpstarted Plowhards and of course Fitted, his celebrated supergroup with Matthew Simms and Graham Lewis of Wire. But when looking back at this mid-'90s classic, it is important to recognize its role in the healing of an alternative nation still coping with the suicide of Kurt Cobain.
"I love the idea of a large ensemble cast on an album, and I love the direction to everyone to check their ego," Strohm tells Hard Noise. "Despite all the personalities on the album, despite all the talent, Watt's unique presence really shines through. It's very difficult to imagine who could pull off such a who's who of talent in this day and age. Especially considering that Watt was more of a cult figure than a household name at the time. He was beloved by a certain community of musicians—basically all of the kids who came up through hardcore and became the elite of the first wave of alternative rock."
And to reference that famous question posed by the late D. Boon  (and revisited here on the Pat Smear-sung "Forever… One Reporter's Opinion"), friendship is clearly what's romantic to Mike Watt.
"When I look at Ball-Hog or Tugboat?, it's about everyone sharing the same ethic regardless of whether you are a big name or a small name and not letting the bullshit ego trip thing get in the way," the bassist states. "Music, being the work of an ensemble, is about trying to have a conversation, y'know? And Ball-Hog is all about that organic connection. None of this was dreamed up at some company power lunch. It was just getting together like we're boys and doing it."