Rochester, NY is the third biggest city in New York state and one of the poorest in the country. It has a historic past — it was founded in 1880 and defined by trailblazing Americans like Frederick Douglass and Susan B. Anthony. A hundred years later,  it was stocked with job opportunities from Kodak and Xerox. Fifty years after that, those companies are idling, the population has plummeted, and Rochester has earned itself the undesirable title of a "Rust Belt city."
Residents know that description doesn't do Rochester justice, though, and they continue to make Rochester a city of culture. We have world-renowned music, so many restaurants that it might be difficult to pick a favorite, and punks. Lots of them, including Rochester's resident post-hardcore band, Full Body. Maybe there's something poetic about being in a mighty-but-fallen, overlooked and underfunded city like Rochester, since Full Body makes rock music as nervous, sprawling, and crumbly as the city it's made in. Their vocalist, Dylan Vaisey, collaborated with Hard Noise to compile a list of local punk spots that make his band — and Rochester — what they are.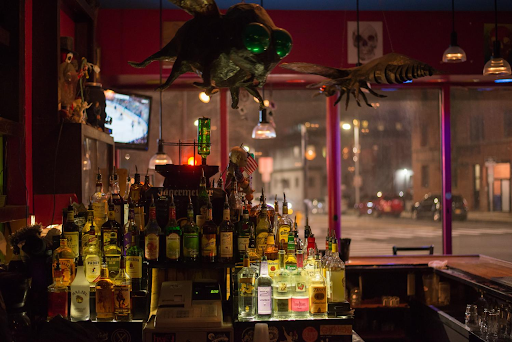 THE BUG JAR
The Bug Jar is a bar and venue located on Monroe Avenue. Dylan says that it has "been a staple of the music scene here for as long as I can remember, and I can't quite imagine Rochester without it. There is a pool table, crazy art for sale on the walls and upside down furniture nailed to the ceiling, and I'd say it's definitely worth checking out if you've never been."
They have themed dance nights, a Ms. Pac-Man arcade game, and two paper mache bugs that rotate lazily over the bar, strapped to a fan. What more can you ask for, really?
SMALL WORLD BOOKS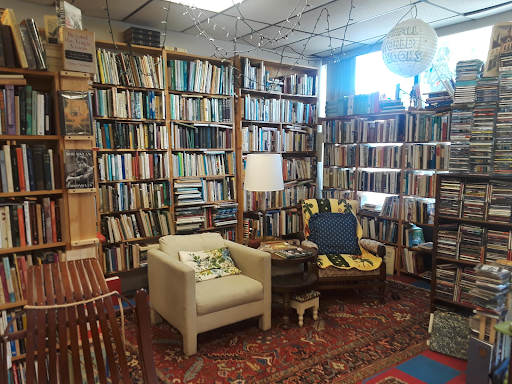 Small World Books is a used bookstore owned by Rocco Pellegrino, who opened the store 15 years ago in Upper Falls, a Rochester neighborhood named for its proximity to High Falls, one of three waterfalls located along the Genesee River.
On top of a staggering range of closely-stacked books, Small World also hosts events for the community such as poetry nights and art exhibitions in its cozy, carpeted main room. It's quiet and snuggly and the perfect place to gather with friends to experience something new.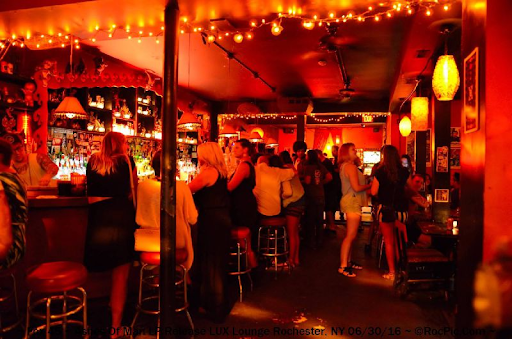 LUX
Lux lives at 666 South Avenue, in Rochester's otherwise fairly yuppie neighborhood, South Wedge. They have a daily special called the Pabstsmear, which involves a Pabst beer and a shot for $3. Bill Murray went there once.
Dylan says that he's "never actually played here, but it seems like it would be cool as hell. It's dark and loosely occult-y." The lights are always low, tinged in red, and there's an outdoor area with tables and seating, including this wooden dick chair. You can sit in it, if you want. It's kind of comfortable.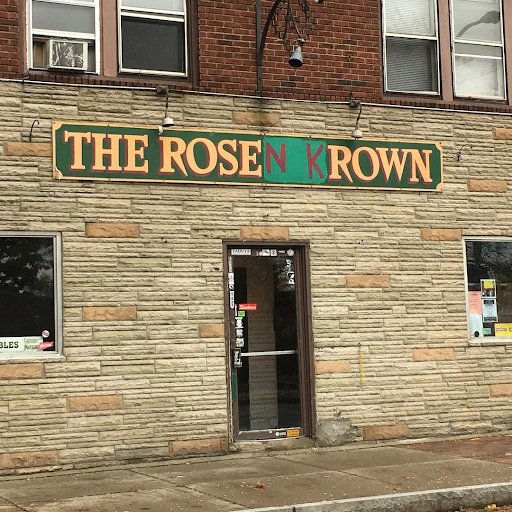 ROSEN KROWN
Like the Bug Jar, the Rosen Krown is located on Monroe, but specializes in hosting heavy shows, "like punk and metal and shit adjacent to that," Dylan says. "I [fuck] with the vibes of the spot. It might be beating the Bug Jar in terms of the number of leather jackets spotted on any given night."
They serve pub food like onion rings, mozzarella sticks, and potato skins, along with craft brews on tap. They also have that gnarly sign. It's very hard to resist the grubby charm of that scrappily painted "N K."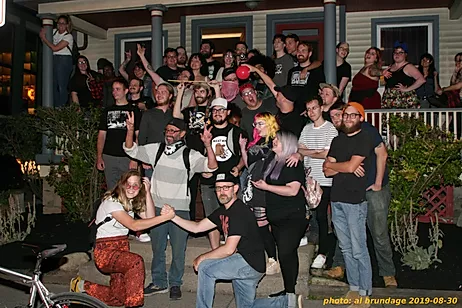 VINEYARD COMMUNITY SPACE
Vineyard Community Space is now defunct after operating out of a Monroe Park church for eight years, but is still owed an honorable mention. Dylan tells us that the "people who booked here never cared if you were too loud, too quiet, or unprepared. They weren't concerned with turnout or clout, just that people were being safe and respectful. They were fully in it to have a space where people could make whatever sounds they wanted and take no money up front. I'm pretty sure that all of the money always went directly to the artists, which is rare for a venue that's not a house or something."
"It was always a great time when there were packed shows there," Dylan says. "It was a dry space, and as someone who loves taking advantage of free drink tickets at bar gigs, it was actually pretty refreshing to go somewhere where you knew people were there just for the music. The amount of sets I've played at the Vineyard where I sucked so hard are too many to count, but I will forever treasure the opportunity to learn and grow as a musician there."