Tiger King's Joe "Exotic" Maldonado-Passage lived in a universe of his own at the Greater Wynnewood Exotic Animal Park, far removed from normality and even further from the world of metal and punk. Well, other than headbanging employee Erik Cowie. The amount of metal not welded to cages increased exponentially when Chicago prog metallers Without Waves swung by the Oklahoma zoo on tour in late January 2017. And yes, they got to pet a baby tiger.
The band were promoting then-upcoming LP Lunar (Prosthetic Records). They took a break from finishing the follow-up when the Netflix series exploded and posted a photo with fellow musician Maldonado-Passage. They explained their experience visiting "the wild west, but with tigers and shit," and guitarist/vocalist Anthony Cwan was gracious enough to answer some more questions via email. Answers have been edited for clarity and length. 
What was your first impression of the zoo and Joe?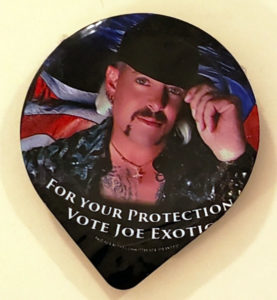 We were driving through the middle of nowhere, Oklahoma, and saw that crazy sign with Joe and the tigers. We had some time to kill and thought it might be cool to check it out. When we got there, we walked down a long, dirt road past some pizza joint he had built into the park and arrived at the gift shop. 
Upon entering, his music videos were playing on a bunch of TVs. The amount of self-branded merchandise he had was insane: CDs, DVDs, candy, stickers, key chains, plus man-panties and condoms. I wondered whether he was a local celebrity or something. His videos had good production value. After paying the entry fee, we sat in a small makeshift room with a big fence in front and a platform behind. Joe walked out shortly after and did his schtick: introduction, why he started the park, and threw some off color jokes in the mix. Then came the tigers and about an hour-long tour through the park.
You mention in your post that he was "eccentric, charismatic and very welcoming." What made you think that? Are there any specific stories? 
I would say we had that impression for most of the guided tour. He and his staff were all very pleasant and pretty funny. But after the tour, he walked right up to us and said something like, "Y'all are in a band aren't ya?" From there, he spoke with us and another couple who stayed behind after the tour, talking about his experience running the park, his husband (Travis), his experience living at the park and taking care of the animals.
He came across as sentimental but was also vulgar as hell. At one point, he talked about the "ladies on Facebook sending pictures of their cooters" and him having to tell them he was gay. He also said something about Carole Baskin, like, "Some bitch down in Florida is trying to screw me over…" He talked about catching PETA people coming in and out of the park poisoning the animals. Looking back, he was very clearly lying to us about some things but was extremely convincing, especially in the moment.
Did you meet any of the other folks from the documentary? What were your impressions of them if so? 
We met the long-haired blond dude (Erik Cowie). He talked to us about metal bands that he liked and was pretty funny too. We interacted with the one-armed man (Saff Saffery), who was admittedly very vigilant on the tour. At one point, they had everyone on the tour feed a camel a treat with their mouths, basically hold the treat up with your teeth and get close enough to the camel that he would eat it. A small kid reached their hand up to the camel's mouth at one point. He immediately pushed the kid's hand away and said, "No don't do that!" He certainly came across as a voice of reason.
You mention it was like the "wild west, but with tigers and shit." What gave it that feel as opposed to a more standard zoo? 
One of the workers was walking a younger tiger on a freaking chain near the start of the tour. I was admittedly keeping my distance as it did not seem like the smartest thing to do with a bunch of people and kids around, but they seemed to have everything under control. They were also breeding tigers and lions, which came across as a bit lawless, hence the wild, wild west analogy. After we left, all of us got into our van and were basically repeating the phrase, "What the fuck?!" We were as exhilarated as we were dumbfounded by it all. Come to think of it, there were a lot more guns and country music than most zoos too.
What were your first impressions upon learning about all the malpractice? Were you surprised? 
After we left, we were so astounded by it all that we started digging on his Facebook account. We noticed some questionable posts right off the bat. We found news stories about some of the issues he's had with the local authorities. We saw posts about Big Cat Rescue and Carole Baskin and started to put two and two together that things weren't quite right with the place. We also would check in now and again on his Facebook account to see what he was up to, and the craziness kept flowing. We saw a post from someone who worked there when his husband Travis died, explaining how he accidentally shot himself a few days prior and how Joe was beside himself. Two months later, we saw posts of Joe with his new husband. Weird, wild stuff indeed.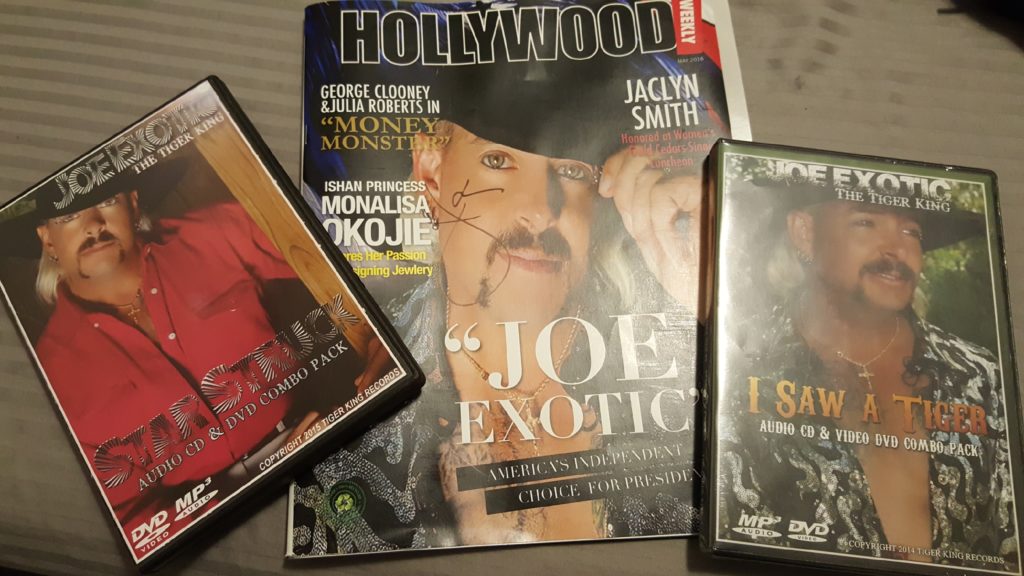 Do you still have the CDs and condoms? 
Our bass player John just texted all of us a photo of Joe's DVDs, CDs and a signed magazine cover. One of us also hung on to one of the condoms. They are fond reminders of the unreal experience we had there while on tour, but I think everyone enamored with the documentary has to be careful to not promote Joe in a positive light. Most people are hating on Carole Baskin, which I feel is definitely warranted, but Joe did some horrible stuff too. He's not innocent by any means. People suffered. Animals suffered. And that's not cool. Still, he's probably the most interesting person any of us have ever met.
—
That's high praise coming from such an interesting band. Without Waves are progressive in the truest sense of the word; like a tiger, they're better when not caged in. There aren't many bands who can deftly segue from the stratosphere to the depths below, calming and inducing panic throughout. They pull together the chaos of The Dillinger Escape Plan, groove of Meshuggah and expansive mindset of Steven Wilson, plus MUCH more. It's unlikely that they'd ever bring in the twang of "I Saw a Tiger" but, like genre agnostics Between the Buried, they probably could if they wanted. As for Joe Exotic, husband Dillon recently said he was transferred to a prison medical center and is in coronavirus quarantine while serving his 22-year sentence, but we can all take strength from Joe's own words: "I went to work every day prepared to die in a tiger cage. Dying doesn't scare me. At all."