Off With Their Heads has toured all over the world, constantly changing their lineup in order to stay on the road. But what happens when a global pandemic hits in the middle of your tour, shows across the country are canceled and people are ordered to stay inside? Answer: a new acoustic record! Out May 15th, Character is a project taken on by frontman Ryan Young to keep himself busy while quarantined. Stripped-down versions of songs from Off With Their Heads' most recent release, Be Good, hit even harder. Young's lyrics get more of the spotlight in this context. It's strange at first not to hear the frontman belting out every lyric, but Young's trademark desperation and emotionally raw style feels more tender and personal than ever. I spoke to Young about his acoustic effort,  running his own print shop and merch store, and his new cat. 
HARD NOISE: Off With Their Heads is known for noisy riffs and high-intensity live shows. Is it difficult to translate your performance into an acoustic setting? 
RYAN YOUNG: You would think so, but no. One of my friends once told me that you might not notice at first, but there is an element of "soul singer" in a lot of these songs. To me, that's the highest compliment I've ever gotten. A lot of these songs are vocal based, so plugging that into almost any kind of backing noise actually works pretty well.

This is the second time I've made one of these records and I'm happy with both of them. We do the acoustic stuff to not only have fun with previously recorded songs and spend some time rethinking things, but also to be able to take it out on the road and get out of our comfort zones. Play shows that aren't regular, run of the mill OWTH shows. We had an improv group open up for us in Pittsburgh once. Take how you might think that would go over, and then subtract it by 100. It was rough. It was also one of my favorite shows. I guess I'm at a point now where anything that makes no sense is what I'm looking for to make sense of why I do this stuff. [Laughs]
HN: What elements do you feel are highlighted in an acoustic version of a song?
RY: It definitely makes the vocals stand out and becomes a much more personal thing. I also try and sing a little more than yell. Really, the only reason for the vocals being like they are on full band records is because I was insecure about actually trying to sing. But then I guess I found some sort of sweet spot. I guess I'm liking the way the band has been slowly evolving. I think that slow evolution is about to speed up though. The older I get, the less I care about coloring outside the lines.
HN: Besides this new record, what else have you been doing to keep sane during this pandemic? What non-musical art have you been into right now?
RY: Well, we left for our tour on Wednesday the 11th. I had talked to my doctor the week before about whether it was a good idea to even do the tour. He said it wasn't a huge deal as long as we made sure to make some changes. Then, as we were driving to the first show, things changed. They continued to change hour by hour. We were in constant touch with pretty much everyone about what to do.
We found ourselves in the same situation that basically everyone in the country was in. Going home meant basically facing bankruptcy because I had put everything I had into getting the band going again after the last time things fell apart. Staying on the road felt irresponsible. After playing our first show, we decided that we didn't want to be a part of the problem. Money doesn't matter, we would figure it out some other way. That's where this acoustic record came into play.
I'm a very lucky person to have just happened to have a dormant record label and a fully recorded record ready to go. We launched a vinyl and digital pre order for it and it saved me. It bought a little bit of time for myself and the people that rely on this place for a little income. So that's literally all I've been doing since I came home from that tour. I've also been working a little downstairs in my print shop. Outside of the economic impacts that this will have, this pandemic and the "social distancing" barely affects me at all. I don't really go out often. I just work and play music.
HN: A lot of your songs deal with mental health. How has your approach to your own mental health changed over the years? Has it made you better at helping others in their mental health struggles? 
RY: I didn't even know what anxiety was until I was over 30. There has been a ton of reflection on everything before that age. I used to be a completely different person. I've accepted that and have kind of embraced the person I've changed into. Hell, I can't even imagine acting the way I did a year ago. I've been super active in acknowledging what goes on / has gone on in my mind.
I spent 223 episodes of my podcast trying to give people a place to vent about their own problems. That's my extent of trying to help people. I made a decision to focus on helping myself truly conquer my own shit this year. It's been up and down, but I definitely go into my dark place a lot less. Would be considerably more baller if I didn't have to cancel tours, but I also understand that sometimes things are just out of your control. I'm not unaware of how lucky I am to have the support I have from a ton of strangers. 
HN: Off With Their Heads initially pulled a lot of talent from the Midwest punk scene. What makes that scene unique? 
RY: We were just all a bunch of maniac kids. I'm not sure if there was much more talent there than anywhere else so much as there was a group of people with a "fuck it all" mindset. I think some of the most fun versions of this band have been the worst versions musically. It was never really about playing well or success. It was about the adventure of it. Now that I'm a little older, it's still not about perfection. It's about creating that vibe in the air and sharing that with a room. For real. It's an indescribable thing. The size of the crowd is insignificant. It's the power of that feeling that can make shit worth it.
HN: I saw you recently adopted a new cat, Micro. How's he adjusting?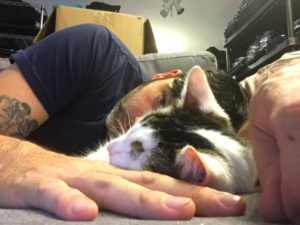 RY: I did! My blind cat / best friend moved to LA. I didn't want to keep him or get another friend because I tour so much. Now that I'm not going to be doing that for the foreseeable future, I decided to hit up a shelter. I went in and hung out with a bunch of orphan cats. Didn't really have a plan. Something came over me and I just asked "Which one of these cats has been passed over the most?" She pointed to an old man sitting on a perch and said "Micro. He's been here over 3 years. He's old and has FIV. I'm not sure if he is going to live much longer, to be honest." I told him to pack his bags. He was coming back to Anxious and Angry to live out his twilight years with me.
He has been having a blast. He eats a bunch (which they said they were having a hard time getting him to do), follows me around everywhere and spends most of his time just sitting by me while I do computer work. He also doesn't like to be touched for more than a few pets. If you cross his threshold, you get bit. So we are basically the same. [Laughs] It's funny. I spent an entire therapy session talking about how the only thing in the world that makes me happy are cats, and how I think that's fucking crazy. She told me that sometimes happiness is actually that simple. So I'm going with that. Micro and I are doing just fine.
HN: What have you learned from running the Anxious and Angry store? 
RY: It's taught me a ton about myself and my reactionary attitude, actually. [Laughs] People tend to take their anger out on me for what the post office charges for shipping. So me being the hot head that I am, I release hellfire on them. Well, I used to. I'm just trying to chill out and ignore anything that isn't positive these days. But seriously, if you complain about shipping costs, I hate you for life and there is no return.
HN: Does being a comedy fan help you as a musician and performer? Is there anything punk rock and comedy can learn from each other?
RY: One of the other things I like about the acoustic version of my band is that when we tour, I specifically ask for comedians to open. Both of our worlds run fairly parallel. I became friends with a bunch of my favorite comedians through music. I think we share that same vibe thing I was talking about earlier. If you find someone who understands that, you have an immediate connection. It's also kinda awesome seeing which comedians are the "posers" of their craft. I haven't run into it a bunch, but it's super obvious. Love it. [Laughs]
HN: What do you like about living in Chicago?
RY: I'm not really a fan of living in a city anymore. If it were possible, I would live in the woods. But right now, I have a business and a band that needs tending to. So instead of complaining about it, I'm going to do my best to enjoy all that this place has to offer. It's an entertainment hub of the world. I also recently got into the NBA and enjoy going to Bulls games. I never thought I would be a person that did that, but it has really given me something to look forward to. We always have a blast.
HN: What are you listening to? 
RY: I go through waves of listening to the same thing for about six months at a time. My current favorite band is easily Summer Cannibals. Their last record Can't Tell Me No is great. Also a new fan of a band called Petrol Girls. Really dig the music of Orville Peck, but the schtick is starting to grate on me. Other than that, I'm still listening to all the stuff I loved growing up. Beastie Boys and Beck. Stuff like that.