Florida has deemed World Wrestling Entertainment an essential business during lockdown for the COVID-19 pandemic, because there's no way to flatten the curve like flattening your sweaty opponents, right? Social distancing be damned, so long as you film without a live audience. Either way, it's a shame that WWE Raw audiences won't be there to see Erick Rowan's metal shirts in person, so we decided to provide our own essential service: picking some of his best hesher hardware.
The bearded behemoth has an affinity for folk metal, often repping the likes of Ensiferum, Korpiklaani, Eluveitie, Tyr, Arkona and more — even of the pirate theme, Alestorm. We decided to give you his best shirts from beyond that subgenre — thirteen of them, because if there's one thing this situation is, it's cursed.
UPDATE: As of today 4/15, Rowan is among the wrestlers released from their contracts by WWE due to coronavirus-related budget cuts. According to the press release, WWE "currently believes the furlough will be temporary in nature." We at Hard Noise hope to see Rowan return to the ring as soon as possible, and that when all's said and done, Vince McMahon will finally consider providing his wrestlers with the comprehensive healthcare and benefits they deserve.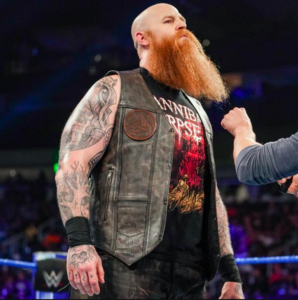 Cannibal Corpse – SmackDown Live, Sept. 17, 2019
Cannibal Corpse's biggest song is called "Hammer Smashed Face." Rowan used to wield mallets with former tag team partner Luke Harper under the moniker The Bludgeon Brothers. Hell, the death metal institution even have part of the duo's name in "Barbaric Bludgeoning."
Even without more specific references, there are plenty of songs appropriate to wrestling's brutish beatings, such as "Pounded Into Dust" and "Blunt Force Castration."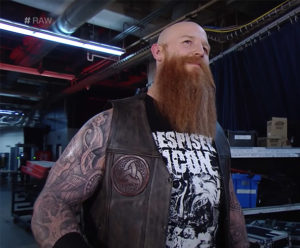 Despised Icon – Raw, Jan. 6, 2020
These Quebec innovators combined the genres of the bands sandwiching them here: death metal and hardcore/metalcore. The result was punishingly fast with brutal breakdowns that didn't just punctuate but punctured eardrums.
The song from which this "Bad Vibes" shirt got its name came from their comeback album Beast — a perfect title for Rowan. Besides, Despised Icon's trademark song is what he's always shooting for and here earned over KJ Orso: "MVP."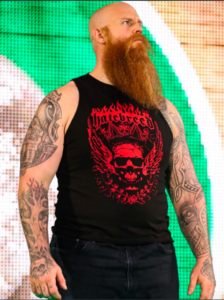 Hatebreed – SmackDown Live, Aug. 13, 2019
These Connecticut metalcore mainstays can sum up the mantra for wrestlers everywhere in their bass-led "Destroy Anthem." The song ain't doom and gloom, though, instead proclaiming one should tear down anything in their way to build something better.
There's usually a silver lining to Hatebreed's message — one of their classic albums is named Perseverence, after all — meaning the lyrics combine with the energetic music for the perfect pre-match pump-up.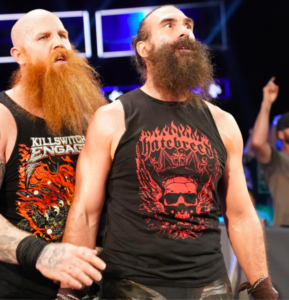 Killswitch Engage – SmackDown Live, Sept. 24, 2019
Rowan and Harper were united in this match again and exhibited that with garments instead of gavels. The former repped these Massachusetts melodic metalcore dudes, while Harper opted for the same skull-with-wings Hatebreed shirt his partner had worn previously.
Like Hatebreed, Killswitch Engage's lyrics usually have a positive bent; the album on Rowan's shirt is even called Atonement. Album opener "Unleashed" was actually originally meant to be an entrance theme for a wrestler, though the band can't unveil which. Perhaps this shirt provides a hint. Either way, the band have experience in that realm, as their song "This Fire Burns" had served as CM Punk's entrance music for five years.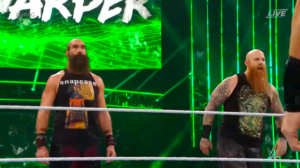 Parkway Drive – Hell in a Cell, Oct. 6, 2019
Here's another tag-team of shirts between Rowan and Harper. The former chose to rep Australian metalcore legends Parkway Drive, while his partner settled on a shirt of a hardcore classic: Snapcase's Progression Through Unlearning.
That album's piercing snare tone and driving energy is impossible to ignore, as are Parkway Drive's breakdowns, which can no doubt be felt from Down Under.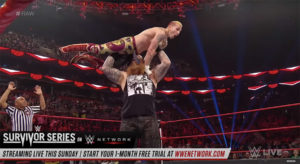 Carcass – Raw, Nov. 18, 2019
Goregrind had only been hinted at before Carcass' arrival on the scene with Reek of Putrefaction, elements of which are splattered on Rowan's chest here.
The title on the inverse may have had attendees reaching for their phone to look up the last word. Not to worry, though, the wrestler almost certainly didn't resemble the odor of a rotting body. However, he likely did smell like sweat, blood and tears — the latter two from defeated opponent Alex Malcolm.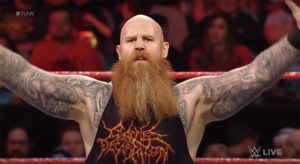 Cattle Decapitation – Raw, Jan. 27, 2020
These former disciples of Carcass evolved into something much more expansive, focusing on death metal technicality and progressive ideologies: both musically and lyrically.
Cattle Decapitation's lyrics are vehemently anti-human, with 2019 opus Death Atlas serving as a chronicle of the planet's seemingly inevitable decay. A track like "One Day Closer to the End of the World" feels oddly prescient, considering this match was a week after the first U.S. case of COVID-19, meaning each day really did shoot us that much closer. 
Blind Guardian – SmackDown Live, Aug. 6, 2019
These German power metallers doubled down on fantasy for the album screen printed onto this shirt. Nightfall in Middle Earth is a concept album about J.R.R. Tolkien's The Silmarillion, a companion to his The Lord of the Rings trilogy and predecessor The Hobbit.
This works well on Rowan, with his 6'8" build and massive beard making the wrestler look like a giant of a dwarf. Hey, I can say it; I have one too.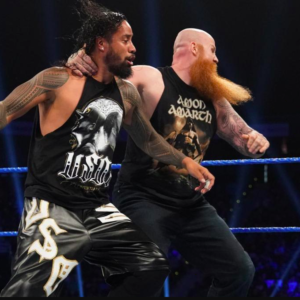 Amon Amarth – SmackDown Live, May 7, 2019
Here's another band with a Tolkien nod. Amon Amarth take their name from the Sindarin name for Mount Doom. The melodic death metal band spin tales of vikings, and Rowan is even more of a deadringer for that set of people than a dwarf; at least you don't have to stretch him up to match.
Amon Amarth are the first band to make a re-appearance, with the wrestler first repping them on the Feb 5, 2019 SmackDown LIVE. However, the second appearance is of particular note because he and partner Daniel Bryan won the Smackdown Tag Team Champions. Perhaps his wearing a shirt for Amon Amarth's 2019 LP Berserker could earn him a new nickname. It'd be appropriate!
Slipknot – Money in the Bank, May 19, 2019
After a couple of bands based on other things, we have to rein it in for this Slipknot shirt featuring the art for standalone single "All Out Life." The blast beaten belter is as no-bullshit as you get, serving as a rallying cry for people to care about more than the shiny new thing and ensure they remember the history that got you there.
Yeah, Corey Taylor was talking about music, but it applies here too. The tag team of Rowan and Daniel Bryan lost to The USOs in the pre-show for this pay-per-view, but ignoring the history would be to forget that they're still the Smackdown Tag Team Champions. Down, but not out.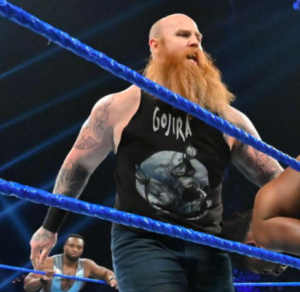 Gojira – SmackDown LIVE, June 25, 2019
Rowan was still teamed up with Daniel Bryan at the time he wore this Gojira shirt. Perhaps this wardrobe choice was a nod to environmentally conscious colleagues, as this French band is seriously into sustaining life on the planet. Or maybe their groovy, progressive death metal just provides the perfect rhythm for Rowan to wreck his opponents.
Seriously, imagine bouncing off the ropes and clotheslining your opponent just as Joe Duplantier finishes instructing, "Beat your feet on the ground now — go!" The ensuing "Backbone" breakdown is brutal.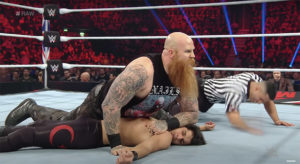 Nails – Raw, Nov. 11, 2019
The artwork on Rowan's shirt here is for a 7" called I Don't Want to Know You, the energy of which is matched by the wrestler's perpetual scowl. The music fits, too, as these Californians blend the most extreme of metal (death, grind, etc.) into their hardcore base.
This match kicked off an undefeated streak that would last through Feb. 3, 2020 (that's THIRTEEN weeks). An even longer streak arrived covered in burlap: a cage full of something Rowan wouldn't reveal until March 2. The big unveil? He was carrying around a giant (toy) tarantula.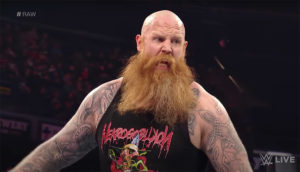 Nekrogoblikon – Raw, Feb. 17, 2020
Rowan took two weeks off following the aforementioned run of victories and returned to fight fellow metalhead wrestler Aleister Black. Though he'd snap his streak, the Nekrogoblikon shirt was perfect for the occasion. If he's always winning there's no drama, and that's exactly what the band represents. If Nails is the brute force of the sport, Nekrogoblikon represent the theatricality, as they're joined on stage nightly by goblin John Goblikon.
Even more appropriately, Goblikon and Rowan are chatting live on Twitch this Friday, April 17 on The Alex Kendrick Show. The touring professional will be joined by co-host Kyle Anderson (vocalist of Brand of Sacrifice) to discuss the reason this whole article exists: WWE in the age of COVID-19.
this Friday i'm chatting with @wwe superstar @ERICKROWAN on Alex Kendrick's video podcast. reply with questions you want me to ask him. thus far i have 2 questions written:
1. what iPhone do you have?
2. what's your favorite @Chilis dish?https://t.co/wUcIkvCI6N@Nekrogoblikon pic.twitter.com/ceeGuebJY8

— John Goblikon (@JohnGoblikon) April 14, 2020
You can see more of Rowan's shirts in this database and in this WWE gallery. Just be sure to do so while maintaining social distancing. 
Photos: WWE