Resurrection, Turning Point, Rorschach and Los Crudos are just a few in a line of names that you might not associate with the incubation of renowned singer-songwriter Steve Gunn, the creator of breezy, Americana-inflected indie favorites like "Way Out Weather" and "Ancient Jules." Yet as a Philadelphia-area youth, Gunn's upbringing included a steady diet of punk rock ranging from the the then-fertile NJ scene to Danzig to Dischord Records and all stops in between. Considering the success of Gunn's revered 2019 release The Unseen In Between (order yours) and his seemingly incongruous background, we sat down with Gunn to ask a few questions about his musical upbringing, which he heavily credits to punk music. Our full conversation is below. Some answers have been edited for clarity and length.
Let's talk about your upbringing in the Philadelphia area. How did you first get into punk music and then hardcore?  What were the bands that kicked off the discovery for you?
I grew up in the western suburbs of Philly in a town called Lansdowne, and my first exposure to punk music was through my older sister.  I looked up to her and was always curious what she was listening to.  Her and her friends had good taste in bands, so I was pretty lucky. I took cues from her friends who were into Punk and various thrash bands. She was was a big Cure and Smiths fan too, and I got heavily into them early on too.  MTV was being pumped into my brain, and I was listening to a ton of bad stuff too, so it was all mixed in there. Typical suburbia.  There were local skate bands that were playing around various events in my town, and yr baggy-pant bands at your random veteran's hall. I was a little wanna-be skater, and seeing bands play was an extension of hanging around skateboarders in various Wawa parking lots too. I was always most interested in music.

I also started getting heavily into mainstream rap around that time also. Remember Infectious Grooves? NWA, Beastie Boys, and Public Enemy were huge to me.  Just into my teen years I started venturing to shows on my own around Philadelphia, with my friend Dan. We mostly went into the city for shows, and there was something going on almost every week, good or bad. There were a lot of local hardcore and skate punk bands around, many different styles. We saw the Red Hot Chili Peppers play with the Dead Milkmen, which was our first big concert that we actually bought tickets for. I remember it was the day after my 13th birthday. Dead Milkmen were a pretty seminal band to anyone who held a skateboard back then, but I wouldn't call them a huge influence on me personally. I did like them though. "Big Lizard in my Backyard" is a classic, and they became pretty heroic after their song "Punk Rock Girl" became a hit on radio and MTV.
That following year in a few month span we saw Fugazi and Danzig. Both shows were unforgettable, for different reasons. Both bands were powerful. Fugazi became the most significant band for me after seeing them. I was already tinkering around with the Dischord stuff, but seeing them live pushed me into some new territory.  After that I discovered there were all kinds of labels and bands that were an extension of this scene, and these bands were putting their own records out and touring. I was also into Straight Edge bands too, which was a relatively short phase, but not regrettable. I started taking music lessons at this time at my local guitar store, as I set my focus on playing hardcore songs. It was a fairly easy, formulaic way to learn how to play a few notes.
Shortly after this we started venturing out of town, mostly to not-so-far New Jersey. There was a club called City Gardens that we went to, and there were all day hardcore shows at Middlesex County College. I missed the heyday of City Gardens, but I did see Gorilla Biscuits there before they broke up. We were too young to drive then, and missed our ride back home after that show. We begged and pleaded with a punk couple in the parking lot to give us a lift back to Philly.
Eventually, I became more drawn to bands that kind of scared me, or pushed me beyond what I already knew. There was a bit of another scene for that. Slap-a-ham did grind core stuff which was pretty extreme, and the Gravity Label from San Diego became an important label for me. The Gravity bands to me felt like an extension of the Dischord aesthetic, but also they were unhinged in their own DIY way. The music seemed slightly understated, but more furious. The punk-ness of it felt more palpable. I saw a lot of these kinds of bands at a place called the Cabbage Collective in West Philly. Heroin was a great band that I saw there too. Los Crudos, Drop Dead were other bands I liked. I never did get to see Crossed Out, don't think they ever toured.
What about punk and hardcore did you find attractive?
Punk and hardcore became an outlet to discover music on my own and to meet people outside the suburbs. Getting a seven inch in the mail with a handwritten letter was one of the most exciting things to my young mind. It felt like an important contact, more so than other things that were being offered to young kids. Some handwritten correspondence and music arrived in the mail from an outside state! My mind was blown. Handwritten letters felt like golden documents.
Reaching out to people and checking out what they were doing while also being trapped in the suburbs helped me carve out something that felt free from outside control (sorry to sound so cliche — sounds like some HC lyrics, ha). I met a lot of people through writing letters, buying records through zines and getting in various super beat-up cars with friends to go to shows. In a way some things haven't changed. I made some long-lasting friendships from those times. I even went on a tour at age fifteen, playing bass with a band around a few states in the Northeast.  It was a funny and monumental experience for me.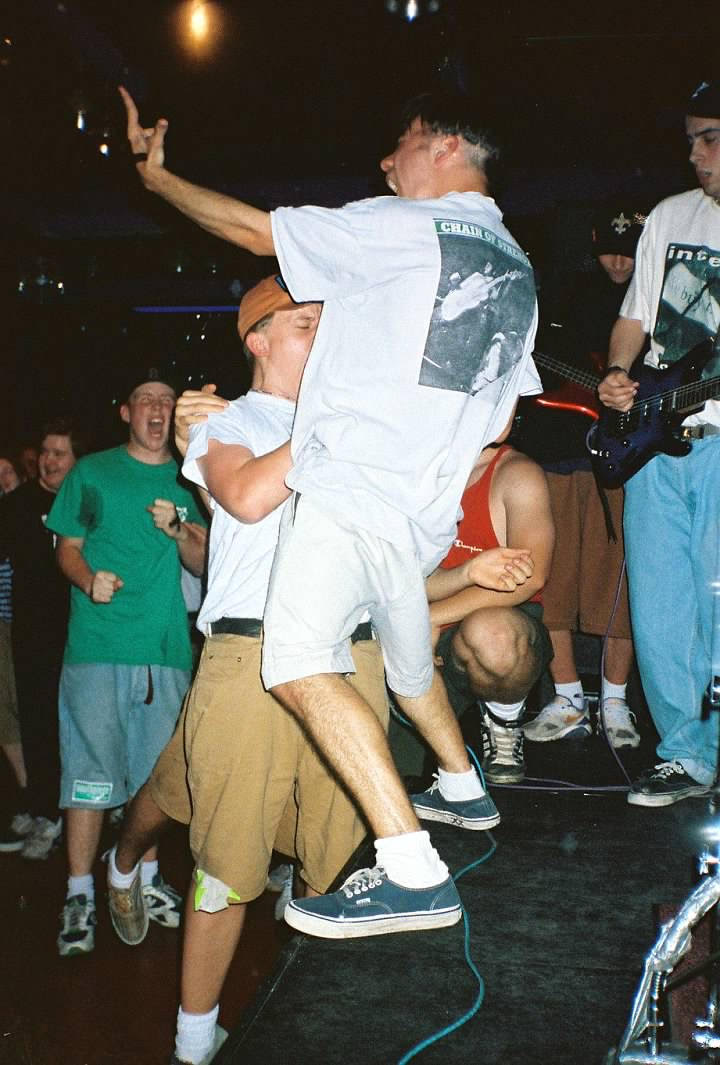 What was the band?
This was a band called Reveal, which had members from NJ and Philly. I didn't play on any of their records or anything, but I filled in for bass on one tour. I was 15. I think we played about 5 shows in a few different state in various basements, VW halls etc.  They had a song on this compilation, which had a few of my favorite local HC bands. Jumping in a van and leaving home for the first time felt very significant.
Considering hardcore's very regional slant, what were the NJ- and Philly- based bands that you grew up and loved? You mentioned Turning Point and Rorschach earlier but were there others?
Other bands that I really dug from the Philly/NJ area were Resurrection and No Escape. Both were pretty heavy bands at the time.  There was a Philly band called Ruin that a lot of the older people spoke highly of, but I never saw them or really heard their music.  It seems to me that many bands were from either Jersey or NYC for some reason. I think one of the unsung HC NYC bands from before my time was Beyond. Their album No longer at Ease is a great album, an early NYC '90s proto-metal style record that really holds up. I also really liked 1.6 band, which was Kevin Egan's group after Beyond was long split up. Guitarist Vic from Beyond became a devotee and started Shelter, along with 108 with Rob Fish from Resurrection a little later. I think my all time favorite Philly band is Bardo Pond, but that was a bit later.
How do you think hardcore helped shape your early music tastes?
Hardcore was an easy way for me to meet people and play music. The stuff was easy to play, and I somehow was lucky enough to be able to hop in van as a teen and experience what that was like.  Later hardcore led me to dig a little deeper into various corners to find things that were truly interesting to me. I never really sat around a listened to hardcore that much but I did like going to see bands play. I suppose hardcore helped me find a way to appreciate seeing bands and find what I liked, which ended up being bands who were pushing the music and not posturing to be cool or tough (which there was a lot of). Especially with hardcore music, I think it served different purposes for different people. As a music fan I needed something beyond what it offered.
After seeing all these HC bands in Philly and NJ, I became interested in everything, and really I felt the need to explore. Philly was a great place for that, and still is. There were all different kinds of bands coming through, and I would go see whatever show I could (which meant sometimes sneaking into bars). I was open to anything, and these kinds of explorations lead me to being open to discovering other kinds of music, say the music of Sun Ra for example. These kinds of discoveries were important. Being on a path like this helped me find a way to appreciate seeing bands, and find what I liked, and that stemmed from going out of my way to see hardcore bands as a young teen.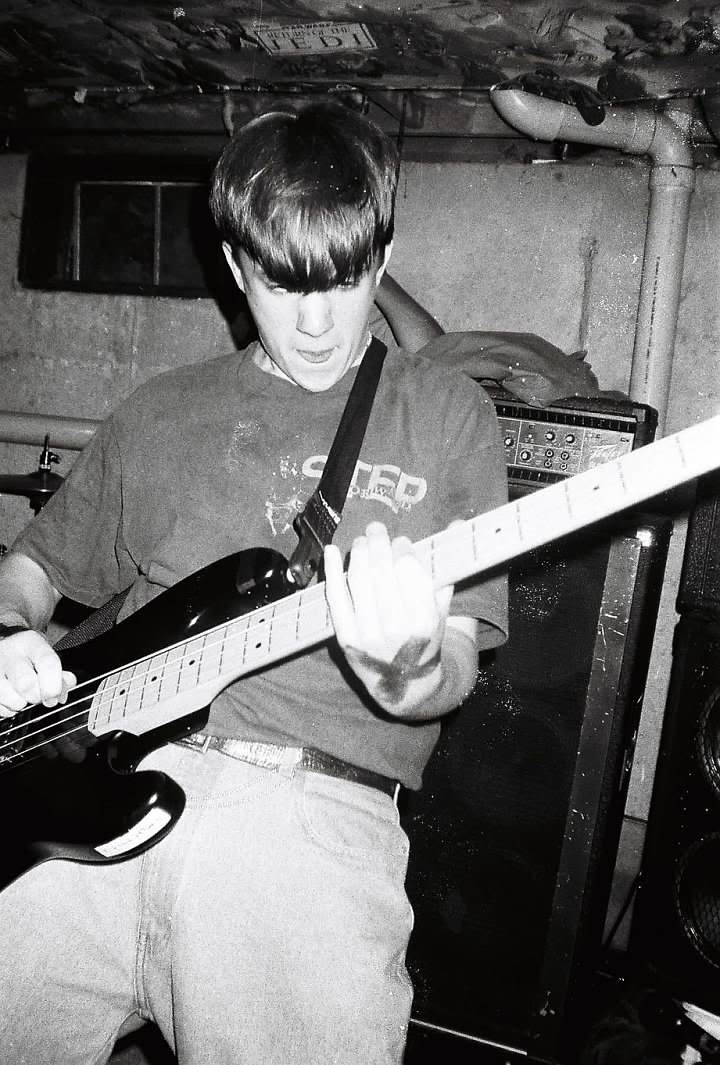 As I ventured into new musical territory, I discovered a great venue in Philly called the Astrocade, which was a warehouse space in a pretty desolate area at the time. It was a welcoming place that put on great gigs, screened films, all kinds of cool stuff. It was a place that felt new and exciting,  were I met a bunch of new friends and saw bands out of the blue that floored me. Bands like Japan's great Mainliner, and people like saxophonist Arthur Doyle came through. I had a one-off improvised band call First Floor Hellevators that opened for an unforgettable show with Arthur Doyle once. Not really sure what we sounded like, but it was fun. Philly for me felt very open at the time. I became interested in it all. I also started going up to NYC around this time to see shows. I'd read the listings in the village voice at the big bookstore and take the bus up when I saw something worthy of the bus ride, returning on the 4 or 6 am night bus back.
Around this time there were labels like Siltbreeze from Philadelphia, which were putting records from bands both local and from around the world. This led to me to finding out about the Flying Nun bands from New Zealand, and many other things. I started getting more interested in stranger kinds of stuff, bands like Dead C and Sun City Girls. I started to dig a lot of bedroom rock, bigger indie bands, noise stuff, psych bands, etc. I also dove heavily into pre-war blues and jazz. Sorry to make such a leap forward from HC but there is some kind of lineage there. Frequenting record stores became a habit, particularly 3rd St Rock & Jazz (rip) and The Philadelphia Record Exchange.
With all of this being said, I was playing music the whole time and trying to wrap my head around that, too.  My ideas, influence, and playing changed all throughout this of course, but it was hardcore that set me into it.