Describing themselves as "the most charming riot of all time," Houston folk punkers Days N' Daze have lovingly branded their throaty vocals and violent acoustic riffs as "H-Town Thrashgrass." The band is acoustic by necessity, too broke to afford amps and electric instruments. However, their scratchy washboard percussion and rapid strumming is as fierce as any hardcore band, and it gives their sound a distinctive rustic quality. Plus, it doesn't get more punk than recording your albums in your dad's bedroom closet. Their latest record, Show Me The Blueprints, marks their first major release with Fat Wreck Chords. Taking such a niche subgenre of punk music to the masses is definitely a huge challenge, but Days N' Daze are up to the task.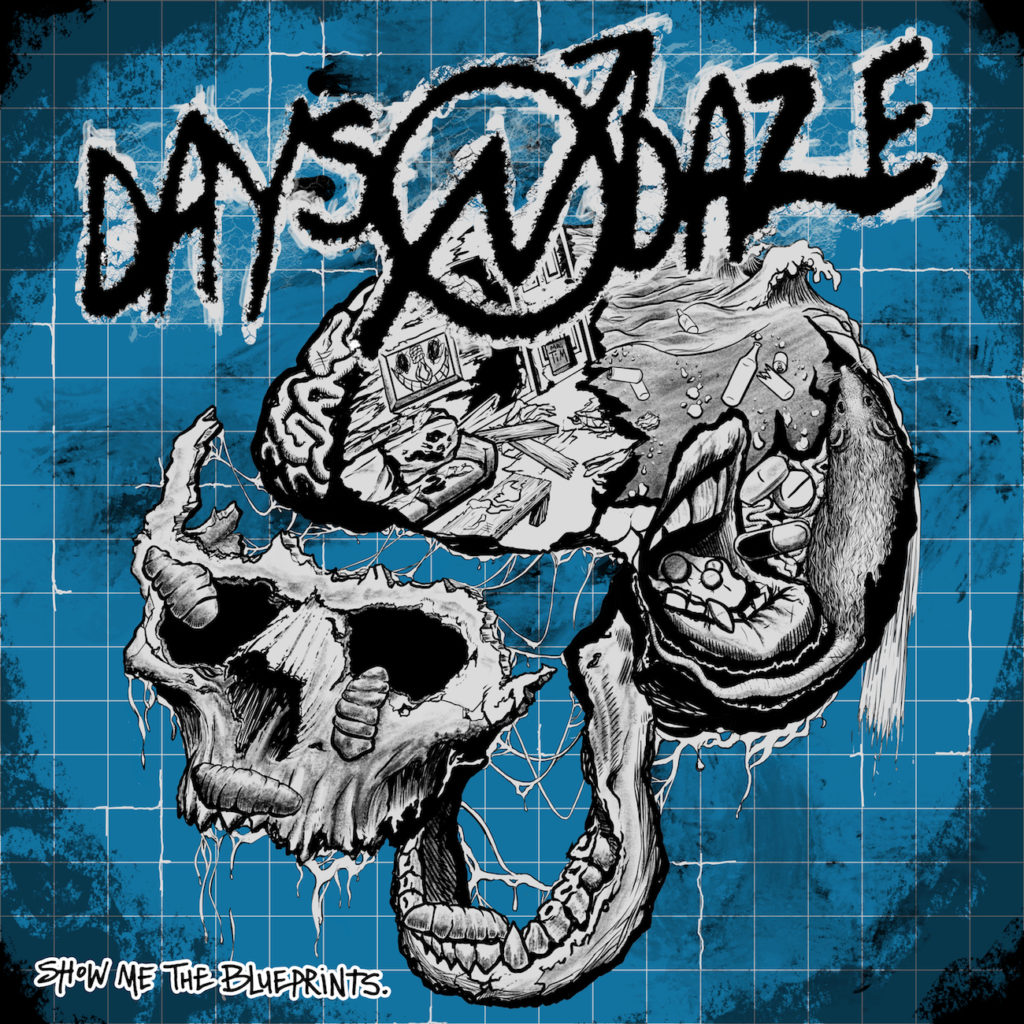 Like a lot of Days N' Daze tracks, Show Me The Blueprints deals thematically with mental health and addiction, but in more length and detail than ever before. Singer/guitarist Jesse Sendejas was nervous about baring his soul on such a widely-released record. It's an intense first impression on new listeners. "Even though ultimately we do just make the music we want to hear, it is nerve-wracking to know that it's a possibility some of your deepest thoughts and feelings are about to be judged by a bunch of people you don't know." 
The opening track, "Flurry Rush" is a perfect introduction to Days N' Daze's sound. It starts with a solo acoustic riff that explodes into a rapid bluegrass jaunt. Trumpeter/vocalist Whitney Flynn provides a bright, peppy trumpet tune that contrasts with the agitated lyrics. Sendejas and Flynn's guttural harmonies sound like a choir of goblins as they ruminate on the little things that stress them out. The song feels like an anxiety attack put to music. Sendejas and Flynn let their thoughts spill out,  quickly switching from counting their blessings, to trying to relive old times through booze, to catastrophizing about how existence is an accident.  It almost sounds like Days N' Daze working through all the feelings they have about their first major release.

Flynn admitted to her nervousness at the prospect. "There was definitely a lot more pressure on how our songs would be perceived. But after working with everyone at the label and the amount of dedication we put into every song we recorded, I think it was well worth it."
It's a miracle Sendejas doesn't pass out from the constant flow of lyrics. He hits syllables so hard they become part of the song's rhythm.  "I really enjoy focusing on the cadence of the lyrics. I wanna write something that would even be fun for me to sing a cappella so I like to throw in tongue twisters and alliteration and things like that."
Words fly by so fast a listener can easily miss how sharp the writing is. On lead single, "Darling Dopamine," Sendejas and Flynn do a cost-benefit analysis of chasing a high in a wordy sing-along chorus. The title track has Sendejas hoarsely shouting about his OCD and its effect on his loved ones to needling mandolins and guitars.Tracks like "Addvice" slow things down a bit. In a clever play on words, Days N' Days gives their past selves some advice on how they're making their mental problems worse by coping with drugs and alcohol. "When we put band aids on our bullet wounds/subtract good add vice." It's as if the all the partying and living for the road of the band's previous albums has caught up with them, and listeners are seeing the fallout. 
Sonically, Days N' Daze stick to their guns on this album. But that's not necessarily a bad thing, They've learned what they're good at over the past seven years and are choosing to embrace that rather than alienate new listeners by doing something even more niche. In addition to their trademark scratchy washboard percussion and rollicking acoustics, the band isn't shying away from their ska and emo influences. There's parts of the record that really jam like a ska record and they seem to enjoy throwing in a fun breakdown or two.
Ultimately, Show Me the Blueprints shows new listeners what diehard fans know — that Days N' Daze's true strength lies in the communities their music has created. Their DIY ethic combined with an approach they call "friends not fans" has earned them a dedicated following and honed their live performance. Fan communities have sprung up online in support and mutual love. Days N' Daze are a frequent topic of conversation in the facebook group folk punk wholesome posting, and The Days N' Daze Appreciation society boasts over 1700 members.
"I think staying active in your scene and helping build up the community has been one of the biggest aspects of our band," said Flynn. "Going to local house shows, promoting bands, and having the chance to sometimes feature on a song is something that we live for. Having the mentality of 'if one person goes up everyone comes with' has always been the basis of friends not fans."