Little Richard will only become more powerful in death, and his music shall bear that out. One week after we learned of his passing, it's still a struggle to wade through his impressive discography. Please consider the following ten records as the lofty heights of his career — the selections necessary to immerse oneself in the full glory of the Georgia Peach.
HERE'S LITTLE RICHARD

(1957)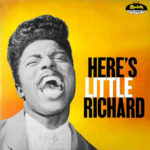 If you had to define rock n' roll in one song, what else could you choose but the knockout punch of "Tutti Frutti?" Maybe any of the eleven rambunctious entries that follow it on this landmark of liberation and fun. Little Richard jolted culture forward with every second of his bawdy, window-rattling performance. And let's not discount the juke joint heat of his backing band, who swing in as many blissful ways. 

LITTLE RICHARD

(1958)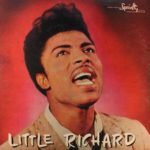 There was no sophomore slump for this legend. Like the first LP, it's positively outrageous that Little Richard contains so many stone cold classics.
"Keep A Knockin'," "Good Golly, Miss Molly," "Ooh! My Soul," "The Girl Can't Help It," "Lucille" — and everything between those hits is just as cherry. The aching bay of "Send Me Some Lovin'" fades Elvis into the wallpaper.
THE EXPLOSIVE LITTLE RICHARD

(1967)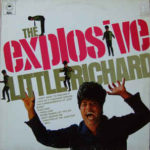 One of the most fantastic soul records ever made. Little Richard's trademark vitality fuses seamlessly with a gorgeous flourishing sound produced by Larry Williams.
Amazingly, Little Richard didn't care for this outing, insisting that Motown wasn't his bag and that Williams and OKeh Records forced him into it. The Explosive Little Richard was remastered and expanded for the excellent 2004 release Get Down With It: The OKeh Sessions.
THE RILL THING

(1970)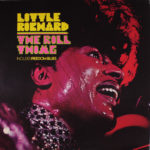 A southern fried resurrection deftly produced by the man himself. Authentic and robust, it gloriously accentuates the rhythm in rhythm and blues.
What a joy it is getting lost in the ten minute instrumental title track. Equal amusement is found when Little Richard puts his fussy stamp on that beloved Beatles hit "I Saw Her Standing There."
5. LITTLE RICHARD IS BACK (AND THERE'S A WHOLE LOTTA SHAKIN' GOIN' ON!) (1964)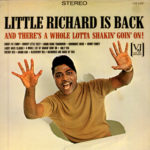 There are rumors Jimi Hendrix plays on this album (he was briefly a member of Little Richard's touring company). The guitar is certainly high in the incredibly wild mix, but that doesn't detract from savory renditions of "Only You," "Goodnight Irene," "Blueberry Hill," and the title track, so rollicking you'll get whiplash. This was Little Richard's first rock n' roll comeback after a several-year foray into gospel. The only evidence of transition is the beige turtleneck he sports on the cover.
THE FABULOUS LITTLE RICHARD

(1958)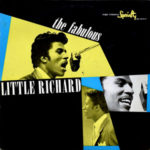 This one came out just as our hero was receiving the call to sing for God. In the liner notes, Specialty Records wish Little Richard "success in his new undertaking."
The Fabulous Little Richard is heavy on the ballads but his tuneful howl makes them just as enthralling as anything uptempo. A pleasant sentimental accent comes courtesy of the Stewart Sisters, who provide doo-wop backup vocals on most cuts. 
THE SECOND COMING

(1972)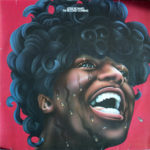 Surrounded by an all-star cast of session musicians (including a few of the guys who played on his first two albums), Little Richard spins through rock, funk, boogie, and everything in between.
1970s production techniques leave this LP sounding dated in stretches, but not to any kind of musty degree. Perfect for a sweaty afternoon of doing nothing at all.
LITTLE RICHARD'S GREATEST HITS: RECORDED LIVE!

(1967)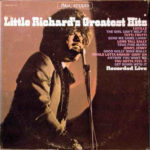 Two Little Richard concert albums with very similar titles were released in 1967 and this is the superior outing by a Macon, Georgia mile. Holding court at a Hollywood club with his band from The Explosive Little Richard, his majesty plows through the original hits with fervor and aplomb, proving time hasn't sapped his power. No surprise the line blurs between rock n' roll revival and religious ceremony. "My music is the healing music!" he preaches to knowing screams. Amen!
THE KING OF ROCK AND ROLL

(1971)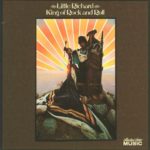 Another congregation gathers to witness the bombast, only this time it's in the studio and Little Richard is mostly performing covers. Veers into cornball territory but you'll still want to dance when Mr. Little serves up "Midnight Special" and "The Way You Do The Things You Do." 
Please be advised that producer H. B. Barnum was also the genius behind the 1985 John Wayne novelty song "Rappin' Duke." In 2005, The King of Rock And Roll was packaged with The Rill Thing, The Second Coming, and a slew of unreleased material for The King of Rock And Roll: The Complete Reprise Recordings.
LIFETIME FRIEND

(1986)
Yes, Little Richard was a devout Christian for most of his life, but only with Lifetime Friend did he realize that people would pay more attention to his message if he directly praised Jesus while piano pounding in his widely acclaimed style. Of course, it was the '80s, so heavily synthesized layers could not be avoided. LR's performance is genuine, affecting, and joyful even if you don't give a tinker's dam about God. It is most assuredly better than the children's album he recorded for Disney in 1992, although even that isn't uniformly terrible ("On Top of Spaghetti" whips ass).