The Gay Agenda are the kind of band best seen live in order to get the complete experience. Not that you can right now — Covid-19 has kept pretty much every band around the world from being able to perform before an audience for the foreseeable future, and for the time being vocalist David Hurtt, bassist Garrett Ficacci, guitarist Matthew Penning, and drummer Luis Imperator are no exception. But under ordinary circumstances, the San Diego "homo riot" hardcore group would be tearing through a brief set full of Tragedy and Napalm Death-inspired bruisers about human rights, the prison of masculinity, and blowjobs, clad in bondage harnesses and plastic fake breasts.
While they can't perform live for the time being, however, The Gay Agenda have delivered their debut album, Penetrating — its release coinciding with Pride Month — in order to give listeners something to chew on before venues open back up again. I spoke to Hurt and Ficacci about their theatrical live show, releasing new music during a pandemic, and commercializing toxic masculinity.

Hard Noise: The Gay Agenda has built up a reputation for its live shows. Was the theatricality of the performances part of the concept behind the band early on?
David Hurtt: When we first set out for live performances, we didn't have a clear picture or idea of what we wanted to do and accomplish. It was more "Hey we're a gay band and we're hardcore and let's go do our thing." We had kind of a trial show at Garrett's parents' house that they don't know about. And the reaction was OK. Everyone was like "Yeah, it's fine. But I was hoping for more." I mean, I was wearing clothes.
Garrett Ficacci: That was the first problem.
DH: So I came to this pivotal moment in my brain where I had to think, if I wanted to see a gay hardcore band making the kind of music that we do, what would I want to see? And what we were doing is not what I wanted to see in front of me. So I kind of had to go outside my comfort zone and put myself in a position where, this is what I want to see live, so I might as well fucking do it. So that's how that part of it took off. 
GF: It keeps evolving. We keep changing our getups on stage. For a while I was wearing some prosthetic breasts but eventually it became a physical hazard. People keep asking "where are the breasts?" but I have to tell them, no they're retired. 
[Drummer] Luis [Imperator] had brought up early on that we have to gay it up hard. And we were all in that same mentality. Our first little house show thing was a cool experiment, but it wasn't fitting with the gay-gay-gay heavy thing we were doing. So we had to match the look to the music. 
Was it important to capture that live intensity on Penetrating?
DH: Absolutely. I personally, before we recorded the first EP which was kind of a trial run for how we do this whole thing, I had the idea that we should record the stuff live. Because while having studio recordings is nice, it's not always a good representation of how bands sound live. It was more of a push to be a more authentic representation of what we are and what we sound like. So when someone comes to see us, maybe they'll say "That band was terrible live." But at least we were terrible on the record, too. (Laughs)
GF: We definitely wanted to keep it consistent. Like if you're hearing it on the album, it's not going to be much different from the messy craziness at the show. You're gonna see a couple half naked dudes, one with makeup on and one with the Araiana Grande bunny ears just going nuts. And when you see that live, you can picture it on the album, because that's how we would sound at a show. Depending on the level of intoxication. 
DH: That type of recording style also lends itself to be more aggressive. When you're in a room with all the other band members like we're practicing and there's a wall of sound around you, I'm going to be screaming harder. I'm going to be screaming louder. They're going to be more aggressive in their playing style and the tempos vary and it sounds more fierce and intense than if we tried to polish our sound at all.
How did the Björk "Army of Me" cover (released as a bonus track on Penetrating) come about?
GF: How long ago was that — last year before we recorded the album? Our drummer Luis had suggested we do another cover. We had actually done two prior, "A Little Respect" by Erasure and "Smalltown Boy" by Bronski Beat, and he brought up another one. And we were all like, "eh, do we really want to be the band that covers a lot of shit?" but then we figured, why not. He brought up "Army of Me," and I thought, "oh that sounds pretty dope." So we tried it out, and he came up with something in one or two days. We thought it sounded pretty good. 
DH: By the time it got to me, they had already done all the work and I was like, "how the fuck am I going to sing this shit? No idea what I'm gonna do!" And they were just like, "I dunno, just guttural the whole thing." So that's what ended up happening.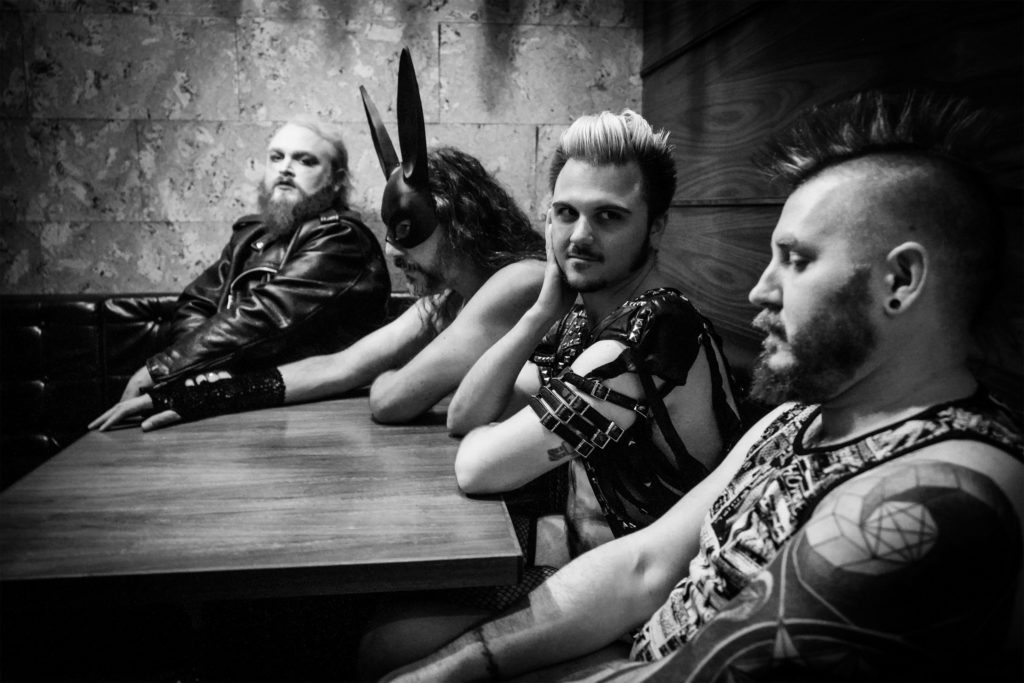 The San Diego hardcore scene's seemed stronger in recent years than it's been for a long time. There are a lot of great bands right now — what's your take from the ground level?
DH: I would agree. I haven't been in the hardcore scene as long as most, but I would say in the last three years or so, San Diego specifically has had this large uptick in the hardcore scene's attention. It's a lot more community based, instead of competing with each other, everyone's helping each other out. It's a rapidly growing community and it's really exciting to see.
Punk has historically been a space that's been more open minded, but there are always knuckleheads. Do you experience much toxic masculinity from within a hardcore scene, or do you see only change for the better?
GF: It definitely exists. Luckily we haven't experienced much of it. Because as much as we are the provocative half-naked gay band, the moment we come up onstage, it's still punk, it's still hardcore. They're here and they're angry and aggressive and still putting forth music that fits with the scene. 
DH: As far as pointing the finger at toxic masculinity, none of that is pointed at the scene we come from. I'm not critiquing hypermasculinity in society at my peers, it's a more widely based critique, even the products you buy at the store. You can't have regular baby wipes, you need to have MAN WIPES. It's more of that, and masculinity is such a gross drip-down of the patriarchy that we've been going through our entire history, and the commercialization of it, that forces people into this ideal that causes more social and mental issues. That's why it's a prison.
GF: We see more toxic masculinity in the gay community than in the punk community. There are a lot of guys that come in and on their dating profiles will say 'masc for masc only, I don't date femmes.'
DH: Looking for straight acting only. 
GF: So in punk we don't really see it. There may be people that think that very masculine way, but it's never really brought up to us because of what we're doing. 
DH: They cower in fear.
GF: We're too powerful!
Has it been kind of a strange experience to be releasing new music without being able to actually go out and play these songs?
DH: It is. That is also kind of the point, too. With nobody being able to go out and nobody being able to see shows and everything is done through computers and not person to person, it's at least an opportunity to release something, so there's something tangible and new that people can have instead of focusing on being depressed about not being able to go out. 
The Gay Agenda's Penetrating is out now via La Escalera Records.
Photos by Becky DiGiglio