There's a sort-of-meme that's been doing the rounds that highlights the hilarious disparity between what "rock" stations claim and actually play. It's a vast gulf between Imagine Dragons and the "fucking rock" that relegates all other stations to "whimpy little snowflakes for not playing rock like we do." The joke's got a basis in the real world campaign that purportedly named one of guitar-based music's most maligned subgenres: butt rock. Apparently shit-posting existed before it took over the internet, as the 1990s radio tagline ("Rock. Nothing but Rock.") quickly morphed to butt rock — and the butt of rock jokes was born.
The music, for the uninitiated (or those mercifully too young to remember), is the kind of post-grunge hard rock that takes out the, well, grunge and replaces it with a radio sheen. Beyond the collision of grunge-inspired clean passages and alt-metal riffs is the defining vocal attribute: the yarl. It's the kind of term you might not know, but as soon as you hear it, you recognize it. The timbre is deep and marked by over-annunciation. The easiest example to give, without outright naming the acts who appear below, is James Hetfield's legendary YEAH-EE-YEAHHHHH — without the cool that comes with, you know, being a member of Metallica. Oh yeah, and it's on, like, every word.
One of the more defining features of butt rock is intense self-loathing that is, more often than not, redirected from inward to everywhere with aggro machismo. The singers only show how they REALLY feel when they unveil their deep-seated hatred via some classic toxic oversexualization that often doesn't just flirt with misogyny; it proudly forces itself on it. In that spirit, we embarked on a noble study in order to objectify and rank the butts of butt rock, from flattest to fattest, to determine who is really deserving to wear the crown, errrrr pants, of the genre.

Trapt – Chris Brown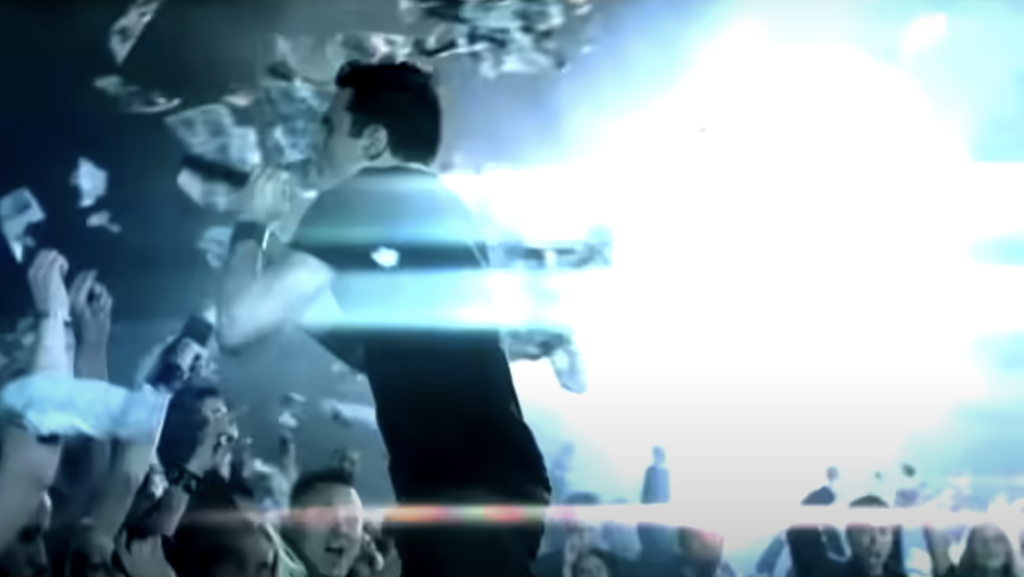 Like we'd start with anyone other than the genre's one-hit wonders whose greatest crowd-puller these days is the Twitter meltdown du jour (We're expecting a block in 3…2…1). Chris Brown's ass is as flat as his band's career trajectory since 2002's "Headstrong." Brown's racist MAGA rants have earned him verbal beatdowns from the likes of Power Trip's Riley Gale (R.I.P.), The Acacia Strain's Vincent Bennett, Every Time I Die's Steve Micciche, I Prevail's Eric Vanlerberghe and more.
The band recently played a couple of ill-advised motorcycle rallies. While Brown's beliefs have been setting the US back a multitude of years, these shows are no doubt having a similar effect on COVID-19 progress. Sorry, Trapt, not even your Pandora numbers can save your ass from the joke you've become — 2-million+ listeners clearly went to your head, not your Pandonka. 
Theory of a Deadman – Tyler Connolly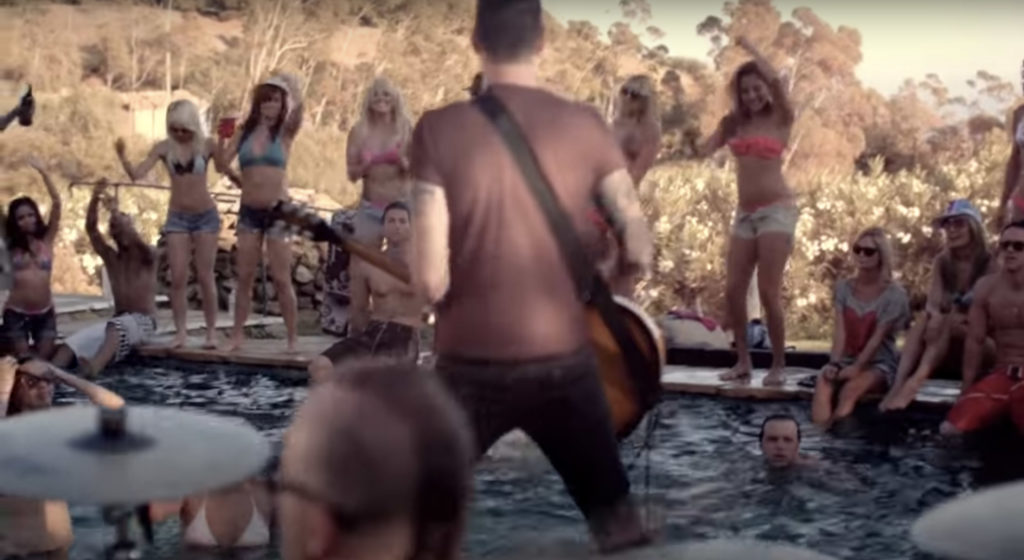 The actual lyrics for "Bitch Came Back" are even more cringe than the misogynistic title, which is, of course, a nod to the children's song "The Cat Came Back." That's apt, since this song is a childish temper tantrum. Another alpha anthem, "Bad Girlfriend," starts with the lyric, "My girlfriend's a dick magnet." Well no kidding, bud, she attracted your repulsive ass!
Speaking of asses, Connolly's essentially repelled itself, seemingly inverting inside itself with the energy of a black hole. If this were biggest jackass, not biggest ass, Tyler Connolly would be near the top.
Buckcherry – Josh Todd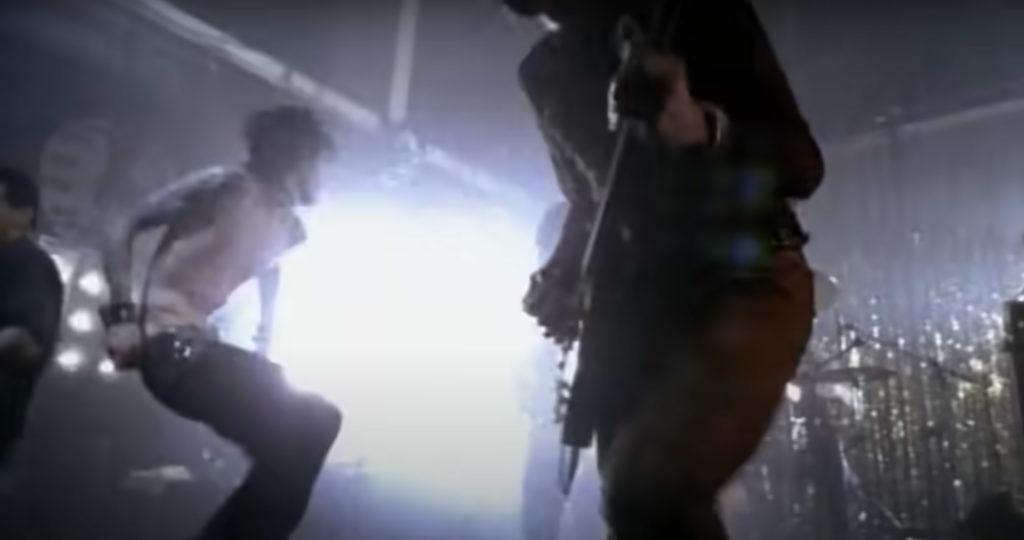 Josh Todd bears a striking resemblance to Jane Lynch's Cindi Lightballoon character from Arrested Development. However, while she spends her short-lived arc on the outside of prison looking in (and attempting to get insider info on incarcerated George Bluth Sr.), Todd and his Buckcherry bandmates spend the majority of the "Crazy Bitch" video behind bars.
In both cases, the Ellen Degeneres lookalikes get turned on by someone on the other side. Somehow, though, that controversial video has something else locked up: Todd's ass, which makes narry an appearance. He flaunts it around in the "Lit Up" clip, which does little but reveal why someone should have thrown away the key.
Shinedown – Brent Smith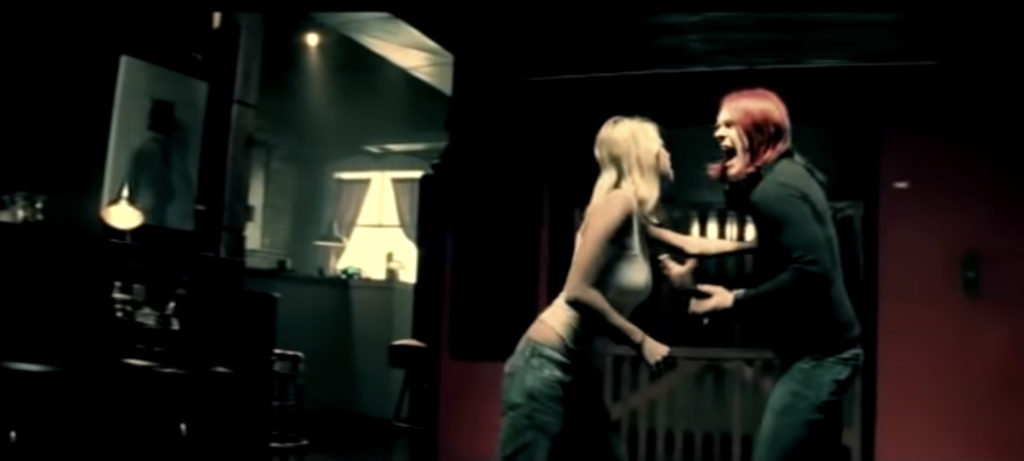 It feels a little weird writing about the butt of a dude who wrote "45," a song about deciding to be comfortable in one's own skin. But for as much as Brent Smith's booty is more BB than 45, he kind of resembles Ozzy in that screengrab, doesn't he? And that's got to count for something.
Eh, either way, he's no doubt more confident these days; that song dropped 17 years ago, and in the time since, he and his Shinedown bandmates have netted nearly as many (16) number one Billboard Mainstream Rock singles: the highest from any band ever. The fact that they're continually topping themselves is more than many of the peers on this here list can say. It's a good thing Smith ain't resting on his laurels, because there ain't much to sit on there. Wait, laurel ain't a synonym for butt? Shit.
Nickelback – Chad Kroeger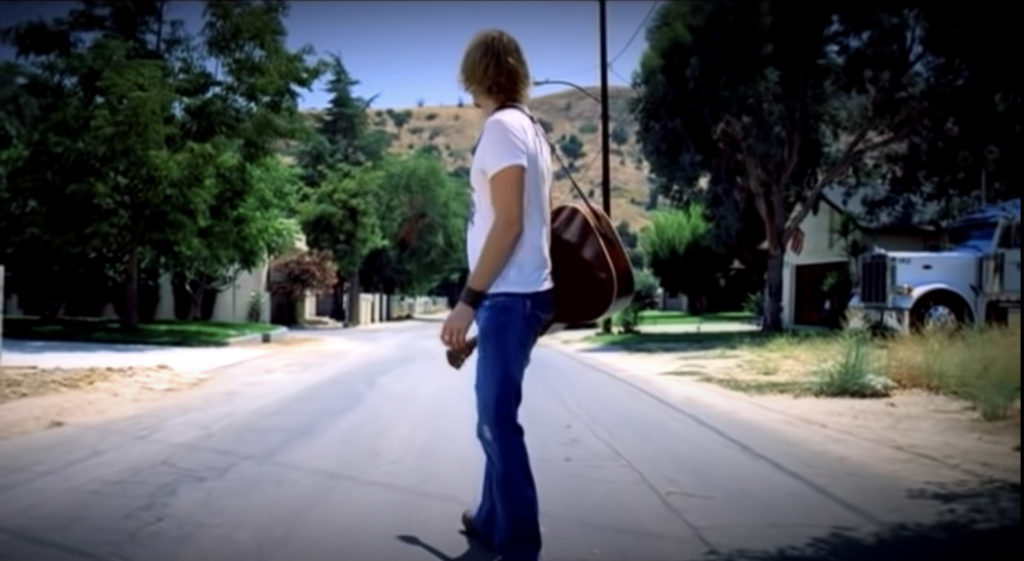 Despite reigning atop the butt rock pile for years, Chad Kroeger's butt is surprisingly middle-of-the-pack. It's almost a shame, because there was a really good joke somewhere in "Look at this photograph, every time I do it makes me laugh," but it doesn't really hit as hard when the picture brings only a slight smirk.
Despite the acoustic guitar in the screengrab above, Nickelback have a surprising number of hard-ass riffs, such as the breakdown in "S.E.X." (complete with a grunted "OUGH"), driving opening to "Flat On the Floor," djenty "Feed the Machine" and Pantera-approved "Side of a Bullet." Like the band's unfair saddling as the worst band in the world, any laughs directed at a photo of Kroeger's posterior are unfounded. Plus he got with Avril Lavigne and he's not even a "Sk8er Boi."
Staind – Aaron Lewis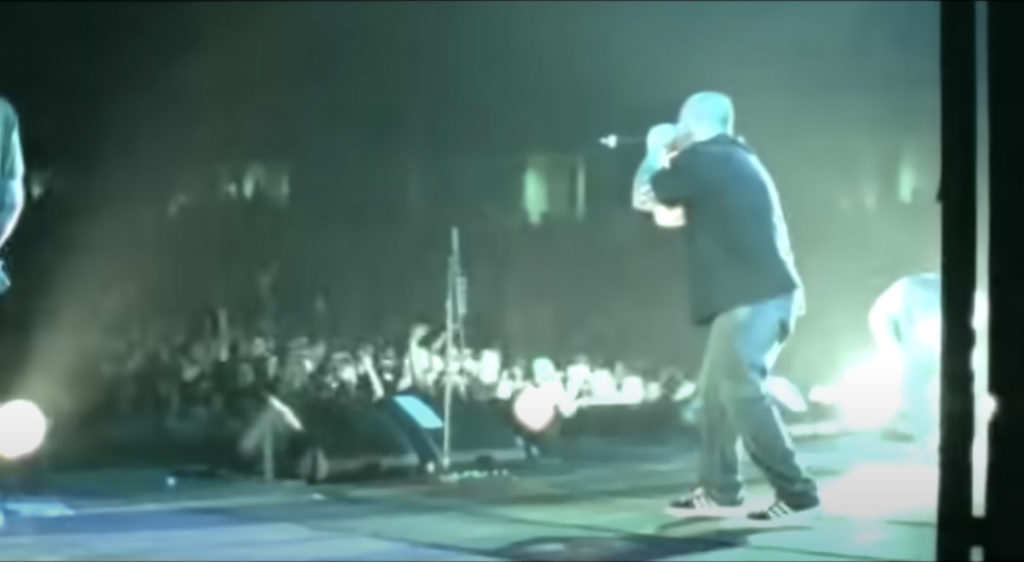 Staind's biggest hit (and it's not even close) is a ballad so far removed from brawn that to call it a power ballad would almost be a misnomer. "It's Been a While" is so soft that it has the band sitting for the official video and complementary MTV Unplugged performance. It's hard to see Aaron Lewis' butt when he's perched on it, but it's got to be at least half decent to support him throughout their constant quiet moments.
"So Far Away" continues the soft rock energy, and the live video offers the occasional glimpse of the frontman's behind. There's a joke to be made about how their most butt rocking song is called "Mudshovel," but we'll save the mud(d)slinging for the next entry on the list.
Puddle of Mudd – Wes Scantlin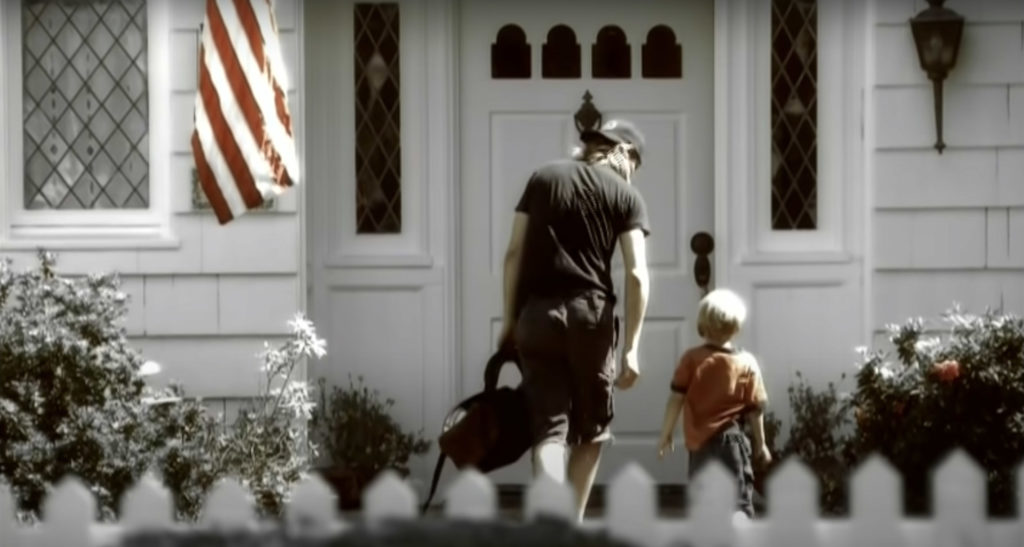 Not even Wes Scantlin's cargo shorts can hide the fact that his Mudd maker is working overtime. Despite the fact that he's rocking a fashion fit of the time (2001) that "Blurry" dropped, the video offers proof in HD. It's the kind of thing you have to look for specifically (you're welcome) due to the baggy fit, but it works with the song, which centers around a passage of subtle, twinkling harmonics. Sure, Puddle of Mudd more recently went viral for all the wrong reasons when their cover of Nirvana's "About a Girl" for SiriusXM, but while his yarl can sometimes sound a bit too much a snarl, his tail is far from a fail.
Hinder – Austin Winkler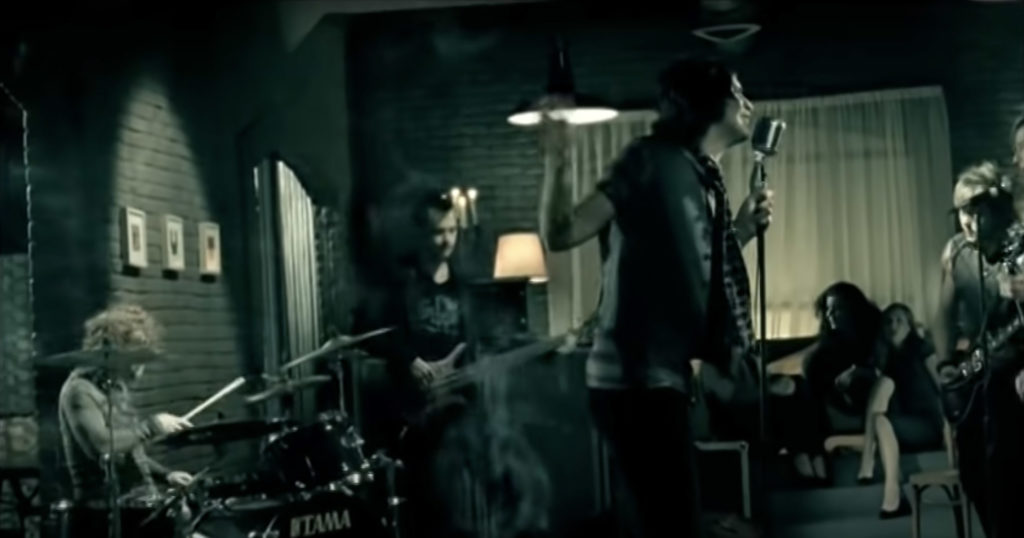 Austin Winkler has the "Lips of An Angel," the scarf of a hipster and the butt of your best friend's mom, which you have no business looking at but can't help but sneak glances. However, unlike that mom, half the time he wears his pants halfway down his butt, effectively cutting it in half both vertically and horizontally.
The "Get Stoned" video features the band performing behind a pool, while Winkler stumbles around as if not exactly sober himself. Winkler's time since leaving Hinder in 2013 has been punctuated with a divorce that found him splitting rights to 81 of the band's song, as well as an undisclosed illness that had him losing weight. We hope his peach remained juicy throughout.
Three Days Grace – Adam Gontier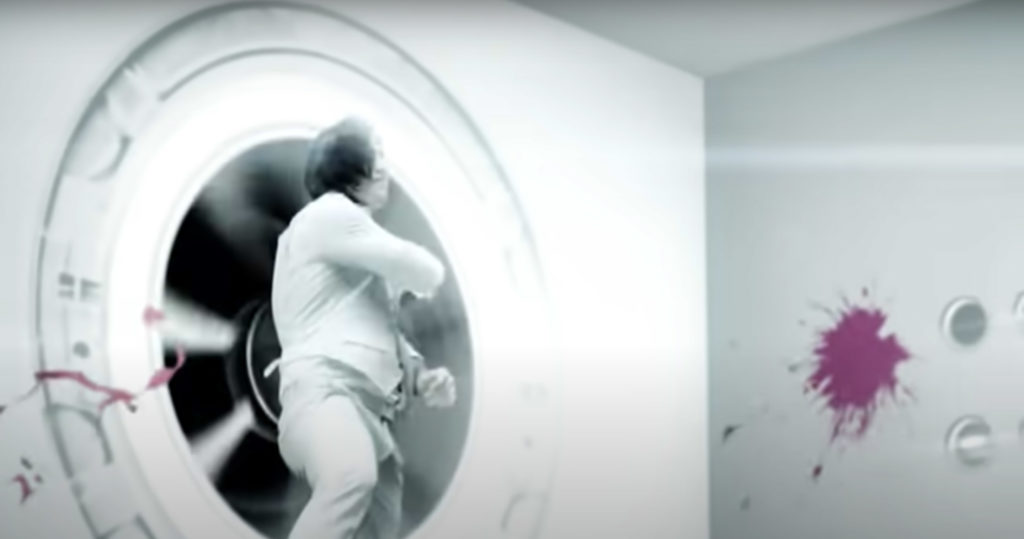 Look, we really wanted Adam Gontier up higher. Dude has fronted not one but TWO bastions of butt rock, going on to sing for Saint Asonia. However, we're going to focus on the band that made him a household name, Three Days Grace, in which he sang angst anthems like "I Hate Everything About You," "Animal I Have Become" and "Pain."
The butt ain't the focus in their videos, which instead highlight his swoopy hair, so we're just going to have to extrapolate that there's more than meets the eye; after all, it's a well-tread trope that emotional skinny boys often have a big surprise in their pants. 
Breaking Benjamin – Benjamin Burnley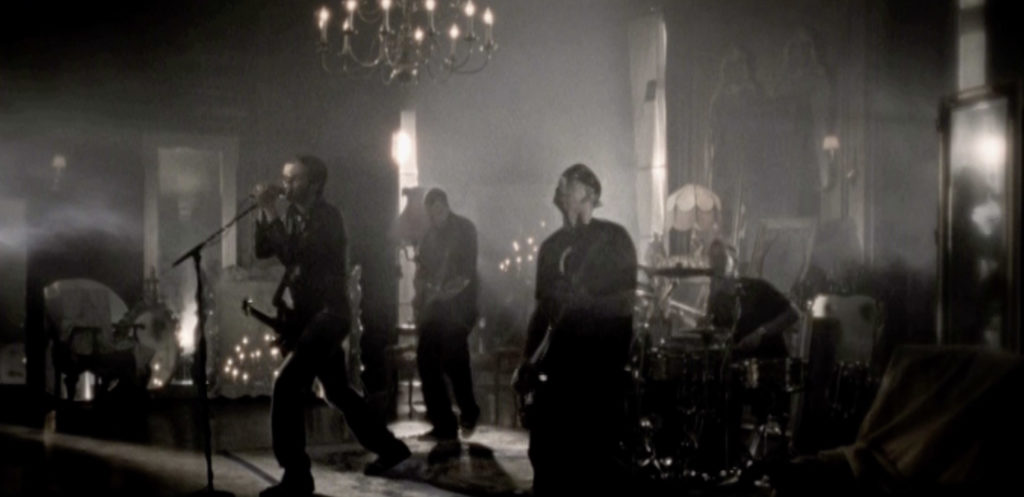 The name Breaking Benjamin came about when frontman Benjamin Burnley broke a microphone, but with a few more squats his butt could break the internet. He's got something that Kim Kardashian doesn't, though: RIFFS! Despite approaching nu metal territory, Burnley's honest voice, earnest hooks and songwriting chops make the genre feel radio friendly in a way it hasn't since Linkin Park. Mega bouncy hit "I Will Not Bow" is all too appropriate, ensuring he keeps things PG; if he bent over as a sign of respect, people wouldn't show him the same and instead start objectifying the wagon he's carrying behind him.
Daughtry – Chris Daughtry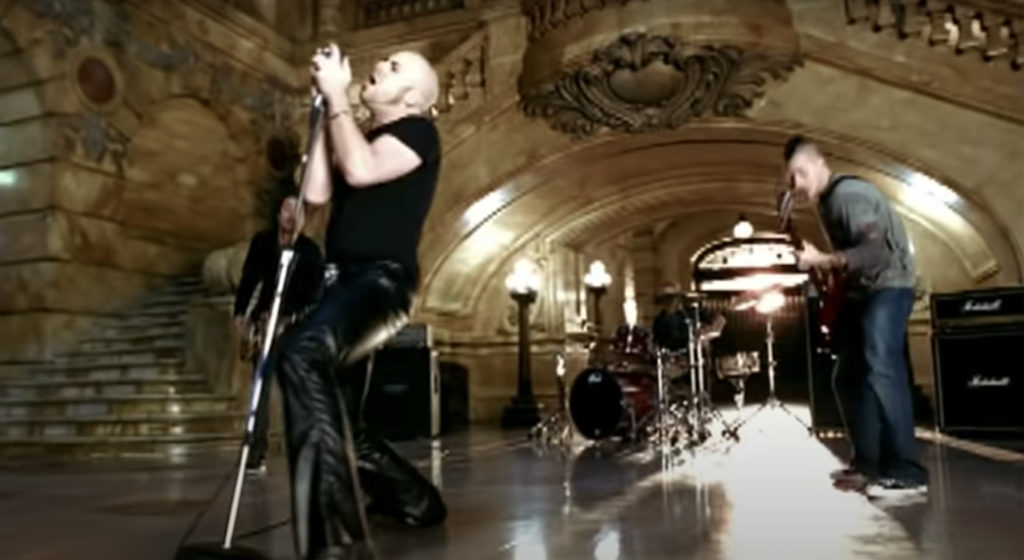 Chris' confidence in mononymously monikering his project with his surname is indicative of big dick energy, but we're not ranking those here. That would be inappropriate. Still, like a mullet, Daughtry himself has (none of our) business in the front, and a party in the back.
The American Idol finalist rode TV waves to the position of fastest-selling rock debut album in SoundScan history. Apparently, writing inoffensive butt rock to bridge the gap between country bros and soccer moms (and in doing so, uniting white nuclear families the world, or at least America, over) is the key to success. Sure, he contradicted himself with his two biggest hits, "Over You" and "It's Not Over," but given his backing and backside, we're going with the latter. Plus check out those leather bell bottoms.
Creed – Scott Stapp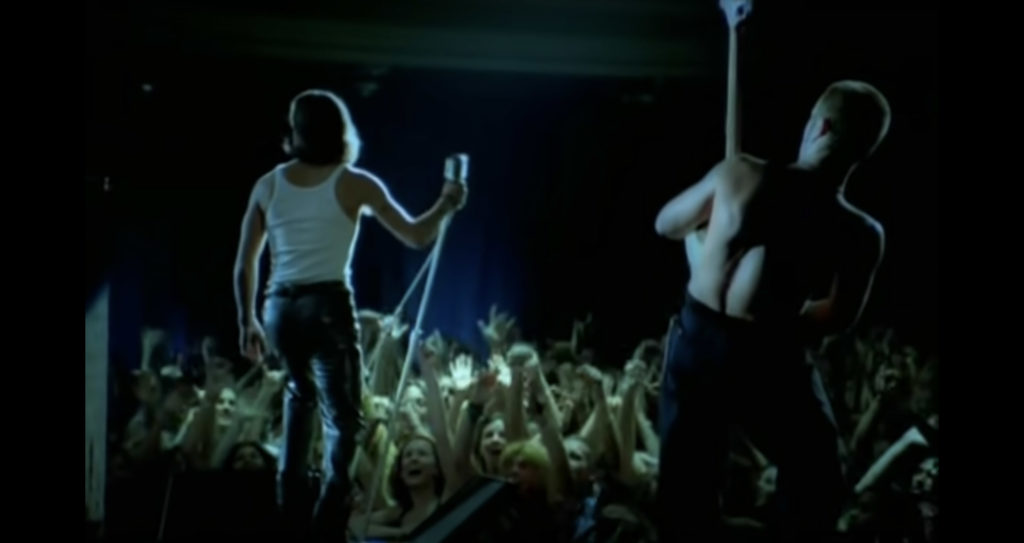 Like the Christian God often alluded to in his music, Scott Stapp was messianic when he rhetorically pondered, "Can you take me higher, to the place where blind men see?" The Creed singer was just being modest, knowing full well in his clairvoyance that his question would reach its apex in this very list. Indeed, you can't get any higher here than Stapp's sumptuous seat, which is so poppin' it could indeed restore a man's sight — or at least encourage one to put on their glasses for a glimpse.
His band's insanely dated CGI music videos are the backdrop for the planet Stapp would have created if the world were shaped by his hands as his butt was shaped out of Human Clay by a higher power. The "One Last Breath" visual accompaniment finds him flying through impossibly tall rock structures the likes of which have not been seen since Goku sent Vegeta crashing through them in Dragon Ball Z. As he floats like a Mind Freak and stands atop pillars reaching to the Heavens, it's almost as if Stapp wants to remind us all it's his ass's world; we're just living in it.
Methodology: These stills were culled from the videos of some of the featured bands' biggest hits. Since many of those videos are approaching two decades old, sometimes they're in 360p or 480p — if we're lucky. If any of the musicians featured feels they were unfairly placed, feel free to email us recent, high-quality photo of your butt and we'll reappraise.
Please report any butt inaccuracies to Brad on instagram @bradseed & twitter @BradSeed