When I'm not watching miniseries about terrible white men like Keith Raniere, I'm listening to podcasts featuring merely average white men. 
Case in point — Coward Hour. 
Brendan Krick and Nik Oldershaw's podcast is parental advisory due to gratuitous profanity, mentions of libtards, and satanism. It's like all my seventh grade dreams come true, only I'm 20 years older. Seriously, my life is like a reverse Benjamin Button, but instead of Brad Pitt, the star is A.J. Soprano. 

I digress — of course, Coward Hour has tons (50-to-100) followers and a Patreon. What's next? A Substack? 
Because white guys are still all the rage (thanks The Hard Times), Coward Hour is getting so popular that the beloved hosts are receiving fan art. Wouldn't you know it — this "fan art" isn't shitty at all. Let's take a look.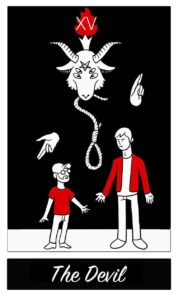 Jordan Dienhart sent in this Tarot card. Smol Krick is on the left, and jolly white giant Oldershaw is to the right.
They're smirking while talking about nearly holding hands in a Target parking lot.
Meanwhile, there's The Devil right behind them saying, "Go ahead, touch each other. See what real human contact is like…or use this rope to hang yourselves."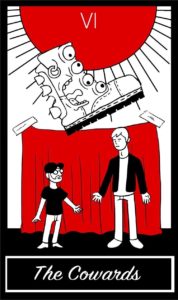 Dienhart also sent in this other Tarot card, because they're thirsty.
This one is called "The Cowards," and the hosts seem to think their sketch about nearly touching dicks is good enough to use at a Wednesday Open Mic night.
That ugly boot fucking loves these jokes, too. Look at it hollering like an idiot, like a broke-ass Squidbilly.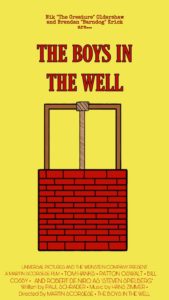 This late addition takes a cue from a recent story the guys told about comedian Norm Macdonald's supposed dating app and makes it a movie poster.
If The Boys in the Well were a movie, it looks like a Stephen King-approved version of The Shining. However, the cast and crew elevate the basic poster design.
Already, critics are calling The Boys in the Well "the best movie since Joker." Indiewire describes it as, "a glorious reckoning of meatball-ism that captures the vigor of Green Book and the shim-shammery of The Irishman." As for me, I give it a B-.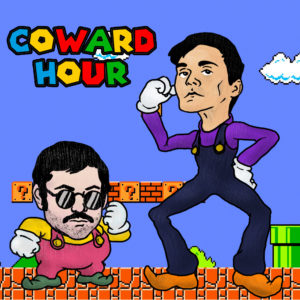 Here's our hosts as Wario and Waluigi, from Alex K.
Oh, cool Nintendo-chic. What's the matter, is there not a photoshop stencil for Crash Bandicoot anywhere online? Sonic too popular for y'all now that Jim Carrey's all up in that ass? No love for Banjo Kazooie?
Y'all nerds suck. I'm going back to my room to play Call of Duty 83: Reagan Edition.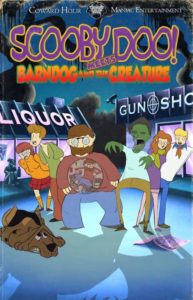 Classic take on Scooby Doo, the gang and the dudes from Dylan Farr here.
Lot goin' on in Krick's tummy. Oh, he's eating himself…? Then, Oldershaw is "the creature."
This is unrealistic because Scooby wouldn't be that scared of these punks, at least by now, right? I mean, Scooby is in his '70s. He's approaching Willie Nelson levels of chill. He's probably gonna offer the dudes some weed. It's 2020, guys. Fucking get real. 
Coward Hour is presented by The Hard Times Podcast Network. Free episodes are released every Friday, available wherever you listen to podcasts.
Bonus episodes available every Tuesday for Patrons.