Up the Blunx is a podcast where two Black punks from different walks of life get together to voice their opinions on everything from straight edge to condiments to the police. The show, from comedian Kevin Tit and End It frontman Akil Godsey, regularly features music from Black artists. In this series, we dig a little deeper into the artists behind the music featured on Up the Blunx. This week's Q&A is with Jason James of Los Angeles hardcore band Ruined Age, whose song "Blinded" was featured on episode 16.
How old were you when you realized punk was something you were passionate about?
I didn't start seriously getting into punk until my mid twenties. When I was younger I was listening to mainstream punk on the radio, stuff like Green Day, Rancid, Offspring, Sublime, Blink 182, etc. I remember seeing a Descendents video on MTV and buying a copy of Everything Sucks soon afterwards. That might've been the first punk CD I bought with my own money.

One of my best friends in high school had an older brother that was a punk. My homie would borrow his brother's CDs and burn copies so I got my hands on stuff like Crass, Misfits, NoFX, Rudimentary Peni, and Minor Threat when I was like 15 or 16. I liked punk, but me and my friends were really into Nu-Metal at that time (lol) so that was my primary focus musically, along with some weirder electronic stuff like Squarepusher and Boards of Canada. I played drums in a couple shitty Nu-Metal bands but didn't start playing in punk bands until much later.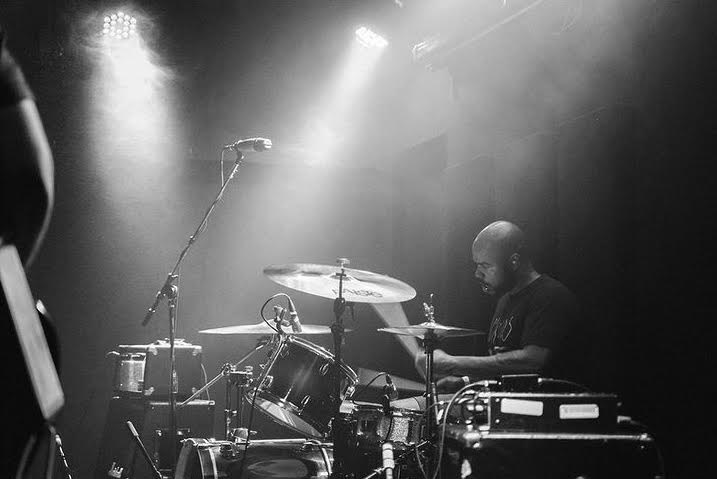 I grew up in the LA area and moved to Santa Barbara for college in 2003. Santa Barbara had a pretty strong DIY scene and a lot of bands were constantly coming through town. I joined a hip-hop band during my senior year of college and we played shows all over SB. We played lots of bar gigs but also plenty of gigs at house parties and DIY spots like Biko Garage and The Pink Mailbox.
The scene was pretty small but very close-knit. Some of our friends played in punk bands so we'd go check out their shows and sometimes they'd open for us. I remember seeing bands like Screwdrive Suicide, Desperate Hours, Civil Unrest, Missionary Possession and Code 4109 a bunch of times. I traded music with people and started digging a little deeper for more stuff that sounded similar to the shit I listened to in high school. At some point I stumbled upon the Maximum Rock N'Roll Radio podcast, which was a total game changer for me. 
I was drinking pretty heavily during this time, and in 2011 I decided to get sober and started going to AA meetings. I met some sober punks in AA and started going to a lot of hardcore shows with them in Oxnard and Ventura. I also started venturing to shows in LA at places like The Blue Star and East 7th Street warehouse. Around this time I started jamming with the bassist from Desperate Hours and in 2013 we started a hardcore band called Catastrophe. This was the first punk band I ever played in. I moved back to LA in 2014 and since then I've played drums for a few other hardcore bands like Kompromat, Body Fluid, and my current band Ruined Age.
Which bands / artists would you say made the biggest impact on your life growing up?
Crass definitely blew my mind in high school. I loved how noisy they sounded. Later in my twenties I got really into Ceremony, Deep Wound, SQRM, Sickoids, No Trend, Infest, Bad Brains, Discharge, Anti-Cimex, and Gas Rag.  
Do you ever feel a sense of responsibility towards the younger generation of Black Punks?
To be honest, I haven't met that many black punks. I definitely see them at shows sometimes but I'm kinda quiet/reserved and I have social anxiety issues, so I don't usually make an effort to meet them. When I lived in Santa Barbara I didn't know any black punks and I've only met a handful of them since I moved back to LA 7 years ago.  I'm in my mid-thirties now so all of the black punks I know are much younger than me lol. They seem to be thriving, so I don't feel any responsibility towards them. 
Is there anything either negative or positive that you've observed growing up in the scene that doesn't get mentioned enough?
I didn't get fully involved with the punk scene until my mid-twenties, but generally speaking, I had a pretty positive experience getting acquainted with the scene when I was younger. I definitely had some shitty experiences dealing with racism, but the positives outweighed all that. Being involved with underground music has gotten me through some tough times dealing with family problems and substance abuse issues over the years so I'm extremely grateful for it.
The LA scene has been really awesome for the most part. I've met lots of creative people doing incredible stuff. It's a little sketchy at shows sometimes because there are fights and gang activity, but most of the time it's cool. The only major problem I've noticed is the LAPD cracking down on venues. 
Any advice you want to give other young POC dealing with the same types of comments and microaggressions you dealt with coming up in the scene?
Oh man, I've absorbed and internalized so much of that shit over the years, it's really toxic. When I look back on it I really wish I would've spoken up about it more often instead of trying to ignore it or nervously laughing it off. Call people out on that shit when it happens, don't let it slide. 
If you're black, in a punk band, and would like your music featured on the show, send a bio and link to your music to [email protected]