In the past week, protests against police brutality and racism have happened in every part of the United States. In addition to speaking out, tons of musicians and artists are going further. Not every band can serve as a Fury Road-style musical vanguard — like Vandalize, who played a three-hour set in the back of a moving truck during a protest in downtown Los Angeles last weekend — but still, there are so many out there raising money for great causes that it's impossible to keep track.
We've said before that Facebook fan pages and shitposting groups are hotspots for positivity and sharing important resources. In posts on the Colorado Hardcore page and Twitter, Jacki Vitetta compiled an extensive list of hardcore bands releasing merchandise with 100% of sales going to various Black Lives Matter groups, Bail Funds, the family of George Floyd, and more.
I started making a list of hardcore bands that put out merch etc w/ 100% support to BLM charities for the COHC page & was asked to make this twitter friendly. Every single person in the hardcore scene should be fighting against injustice, inequality & police brutality. (Cont)

— Jack (@JackiNicole) June 4, 2020
With this in mind (not to mention it's Bandcamp Friday), here are a few of our favorites from Jacki's list of hardcore bands using their resources for positive action during a time where, as part of an industry brought to its knees by coronavirus, those resources are seriously limited.
On Point
On Point has a new shirt featuring an image of protesters on the front and a big-ass "No Justice No Peace" on the back. It's currently available for pre-order, with 100% of profits going to various Black Lives Matter charities and organizations. The purchase also includes an MP3 download of On Point's 2016 record Year in Fear.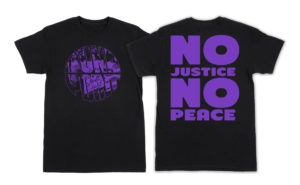 Dying Wish x Knocked Loose
Dying Wish and Knocked Loose teamed up for this "Enemies in Blue" t-shirt, and are donating 100% of proceeds: 50% to Portland Bail Fund and 50% to Louisville Bail Fund. Pre-order yours here.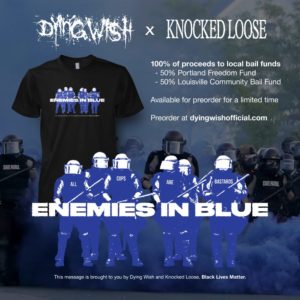 Turnstile
If you missed out on the Code Orange, Every Time I Die, Turnstile and Vein test press raffle benefitting community bail funds, Turnstile is still kicking their money to great causes through June 7th. All sales from their US merch store are going to bail and legal funds in Baltimore, Columbus, and DC. They're also donating 100% of sales of their "Rainbow" shirt to LGBT Freedom Fund.
From now through the weekend, 100% of our US online store proceeds will go to BALTIMORE/COLUMBUS/DC bail and legal funds. 100% of proceeds from the "Rainbow" tee will go to LGBTQ Freedom Fund. Link in profile. pic.twitter.com/mOnYQEcA0A

— TURNSTILE (@TURNSTILEHC) June 3, 2020
Rotting Out
Rotting Out has a new shirt available for pre-order featuring an image of a Brown Beret and Black Panther standing together at an Oakland rally for Huey Newton in 1968. 100% of these profits will go to Los Angeles Peoples City Council Freedom Fund.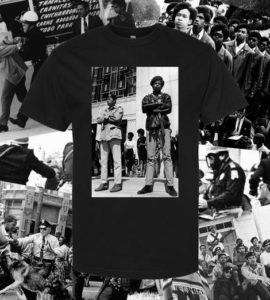 Terror
Terror's new t-shirt features the incredibly appropriate message "Your Enemies Are Mine," taken from their song of the same name and featuring lyrics from it on the back. Pre-orders end Friday June 12th, with 50% of profits to the GoFundMe for the family of George Floyd, and 50% to The Bail Project.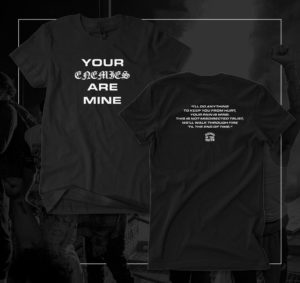 These represent a tiny sample of the many, many bands creating special releases to help combat injustice across the country, and further proof that there are tons of ways for you to get involved in the fight, whether you're using your voice, your body, your art, or your dollars.