These are dark days indeed. In the midst of all the pain and suffering a global pandemic and economic crisis bring, there is one injustice that hits particularly hard: Why can't we go see Dance Gavin Dance?  On top of the millions of people struggling to pay rent and feed their families, why did COVID have to come for the DGD tour? It'll be postponed for months. If this unspeakable tragedy is any indication, there truly is no God.
In any case, all these tour cancellations make it difficult to get up close and personal with our favorite artists. So in the meantime, why not do some reading? There are all kinds of books that dive deep into artists' lives and scene histories. Until we can all start going to shows again, these 20 titles are the closest you'll get to an actual stage.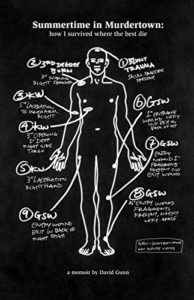 1) Summertime in Murdertown: How I Survived Where the Best Die by David Gunn
King 810 frontman David Gunn writes about growing up in Flint, Michigan, where crushing poverty turns every day into a fight for survival. His life is a new kind of sex, drugs, and rock 'n' roll, a grittier version surrounded by gang violence and the specter of economic collapse. Gunn pulls no punches in real life, and the same is true of his writing — sometimes brutally honest, sometimes just brutal, but always compelling.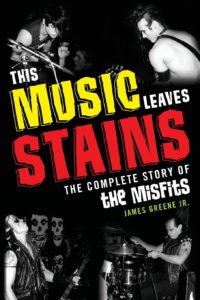 2) This Music Leaves Stains: The Complete Story of the Misfits by James Greene Jr.
We've all seen the infamous skull logo lurking on black tees, but where does it come from? In This Music Leaves Stains, James Greene Jr. tells the incredible story behind the greatest horror punk band the world has ever seen. The book chronicles the origin, dissolution, and peculiar reunions of the Misfits, shining new light on the strong personalities and bizarre happenings that helped make them so iconic.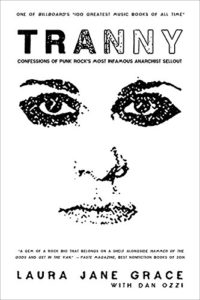 3) Tranny: Confessions of Punk Rock's Most Infamous Anarchist Sellout by Laura Jane Grace, with Dan Ozzi
When Laura Jane Grace founded Against Me!, her name was Tom Gabel. But as the band reached new heights of acclaim, Grace's private search for identity intensified, leading to a 2012 Rolling Stone profile that astonished the punk world: Grace was transgender, and would now be living life publicly as a woman. Tranny is Grace's courageous, moving memoir about daring to be who you are — and rocking out harder than ever.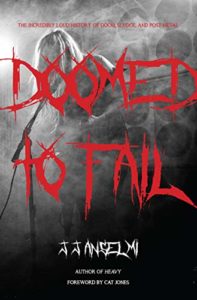 4) Doomed to Fail: The Incredibly Loud History of Doom, Sludge, and Post-Metal by J.J. Anselmi
Heavy music journalist and Drainage drummer J.J. Anselmi chronicles the rise of doom, sludge, and post-metal, taking readers across America and even to far-flung locales in Sweden and Japan. He also writes about the bands that were most influential for the genres, from Black Sabbath to Eyehategod to Neurosis. Ultimately, it's a passionate love letter to three underappreciated styles of metal, one that will inspire longtime fans and newcomers alike.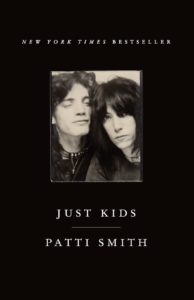 5) Just Kids by Patti Smith
Back in the '70s, Patti Smith developed a groundbreaking fusion of punk and poetry, and has since become a central figure in the history of rock music. Just Kids is her memoir about life as an experimental artist in New York City, and her deep bond with photographer Robert Mapplethorpe. It's an essential read for anyone wanting to understand the early evolution of rock — and oh yeah, it won the National Book Award.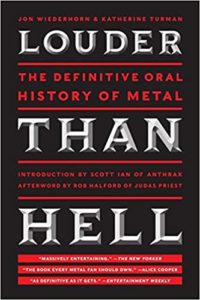 6) Louder Than Hell: The Definitive Oral History of Metal by Jon Wiederhorn and Katherine Turman
If you've ever wondered about where guitar distortion or "cookie monster" vocals come from, Louder Than Hell was written for you. It contains all the insider knowledge and revealing tell-alls that a metalhead could want, sex and drugs most definitely included. Crack it open to read over 250 interviews with metal gods ranging from Ozzy Osbourne, Eddie Van Halen, Lars Ulrich, and Axl Rose to Corey Taylor, Marilyn Manson, Rob Zombie, and Dimebag Darrell.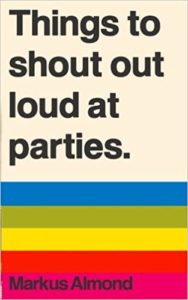 7) Things to Shout Out Loud at Parties by Markus Almond
Once a punk rock frontman who got kicked off the Warped Tour, Markus Almond has since turned his talents toward writing zines and books, most notably Things to Shout Out Loud at Parties. It's a collection of poetic reflections and recollections, most of them about love, music, living life on your own terms, and striving to make a dent in the universe. Almond's writing has earned praise from artists like Gerard Way and Travis Barker, so he's got to be onto something.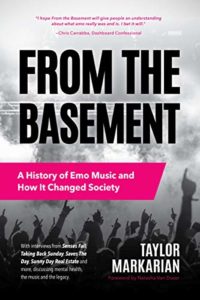 8) From the Basement: A History of Emo Music and How It Changed Society by Taylor Markarian
If you're still blasting The Used and turning every Halloween into the Black Parade, it's time to read Taylor Markarian's deep dive into the world of emo. The book features interviews with Senses Fail, Taking Back Sunday, and more, plus coverage of iconic bands like My Chemical Romance and Dashboard Confessional. Markarian also writes about how emo connects to mental health, and what lasting effects the genre has had on pop culture at large.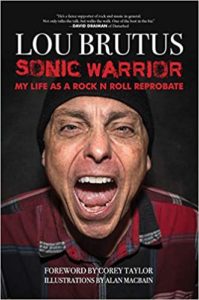 9) Sonic Warrior: My Life as a Rock N Roll Reprobate by Lou Brutus
If David Draiman, Zacky Vengeance, Adam Gontier, and Phil LaBonte all love Lou Brutus — and they do — then you probably should, too. He's spent his life discovering your favorite bands and playing them on the radio, all while becoming close friends with everyone who's anyone in rock. If you're looking to take a wild ride with a heavy music insider, step right up.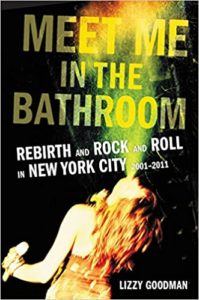 10) Meet Me in the Bathroom: Rebirth and Rock and Roll in New York City 2001-2011 by Lizzy Goodman
Meet Me in the Bathroom chronicles the dawn of a new era of rock in New York City, one populated by the likes of The Strokes, The Yeah Yeah Yeahs, LCD Soundsystem, Interpol, and Vampire Weekend. There's enough tea in here to satisfy even the most voracious gossip, and since the events of the book took place just 10–20 years ago, this is critical reading for anyone with a finger on the pulse of modern rock 'n' roll.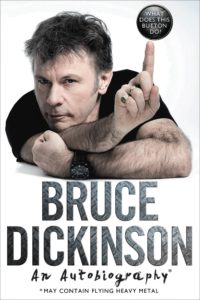 11) What Does This Button Do?: An Autobiography by Bruce Dickinson
Yes, he's the lead singer of Iron Maiden, one of the most successful rock bands of all time with over 100 million albums sold. But Bruce Dickinson is, somehow, so much more: airline captain, beer brewer, novelist, entrepreneur, radio presenter, film scriptwriter, world-class fencer… the list goes on. In his autobiography, Dickinson gives readers an inside look at the life of a modern-day Renaissance man, and chronicles the highs and lows of helming one of the top metal acts on the planet.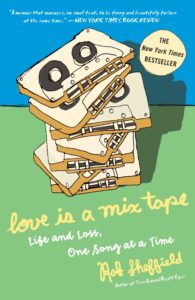 12) Love Is a Mix Tape: Life and Loss, One Song at a Time by Rob Sheffield
"The finest lines ever written about rock 'n' roll." That's what Rolling Stone called Rob Sheffield's memoir about meeting the girl of his dreams — and, years later, watching her die in his arms. Love Is a Mix Tape is a deeply moving, unexpectedly funny story about how music can transport us into the past, and how our favorite songs weave themselves into the fabric of our lives.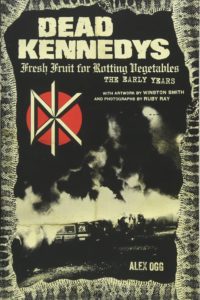 13) Dead Kennedys: Fresh Fruit for Rotting Vegetables: The Early Years by Alex Ogg
Journalist Alex Ogg has compiled the first major account of perhaps the greatest punk band of the late '70s and early '80s. He takes the reader through an essential chapter in punk history, combining firsthand interviews with original artwork to offer a new perspective on an incredibly controversial yet undoubtedly influential group of rockers.
14) Please Kill Me: The Uncensored Oral History of Punk by Legs McNeil and Gillian McCain
This is the definitive account of the birth and rise of punk rock, as told by the revered figures that made it happen: Iggy Pop, the Ramones, Richard Hell, and dozens more. It's a lurid tour through New York's underground music scene, where readers encounter all the jaw-dropping madness and debauchery that only our punk forefathers could cook up.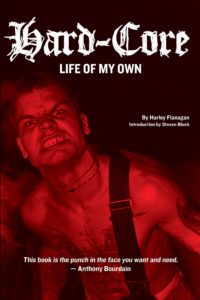 15) Hard-Core: Life of My Own by Harley Flanagan
Cro-Mags founder and bassist Harley Flanagan first takes the reader through his surprising childhood, which was spent rubbing shoulders with the likes of Andy Warhol, Allen Ginsberg, Bad Brains, and Joe Strummer of The Clash. Flanagan was a punk rock prodigy, fending for himself in a crime-ridden New York City, then growing into a pioneer of its hardcore scene. Overall, Hard-Core is a riveting look at a towering figure and a pivotal time in the history of punk.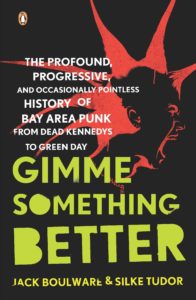 16) Gimme Something Better: The Profound, Progressive, and Occasionally Pointless History of Bay Area Punk from Dead Kennedys to Green Day by Jack Boulware and Silke Tudor
A West coast counterpart to Please Kill Me, Gimme Something Better captures the singular spirit of punk in California's Bay Area. It chronicles memorable moments such as the Sex Pistols' final performance, and includes storytelling straight from the movers and shakers of the scene, including members of Green Day, Rancid, NOFX, and AFI. Even if, or maybe especially if you've never been to a show at 924 Gilman Street, this is a must-read.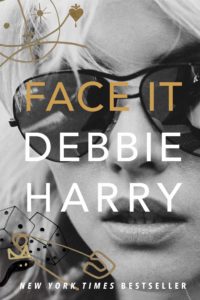 17) Face It: A Memoir by Debbie Harry
The lead singer of Blondie tells her story as one of punk rock's original stars. Harry takes readers through her heroin addiction, bankruptcy, and Blondie's breakup, then describes her successful acting career, her LGBTQ+ activism, and the return of her band to the global stage. The book also has previously unreleased photos, plus bespoke illustrations and even fan art, making it a feast for both the eyes and the imagination.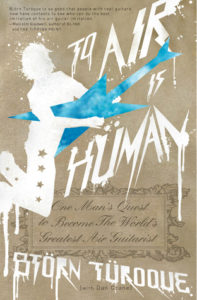 18) To Air Is Human: One Man's Quest to Become the World's Greatest Air Guitarist by Björn Türoque, with Dan Crane
Are you sitting down for this? Okay, so… competitive air guitar is a thing. In fact, it's an entire international subculture, with organized competitions being held across the U.S., Europe, and beyond. Dan Cra — er, Björn Türoque beautifully tells his story of stumbling across the air guitar world, and daring to climb its highest peak. (I did too, with mixed results.)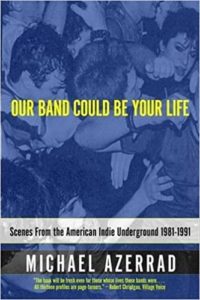 19) Our Band Could Be Your Life: Scenes from the American Indie Underground 1981-1991 by Michael Azerrad
This classic pulls readers to the front lines of the '80s DIY punk scene, documenting the cross-country network of bands, labels, fanzines, and communities from which the sounds of Fugazi and Sonic Youth emerged. Azerrad also profiles seminal groups like Minor Threat, Black Flag, and Butthole Surfers, who tell raw personal stories of helping to build a mass countercultural movement. Their lives weren't easy, and their music wasn't polished — but hey, that was kind of the point.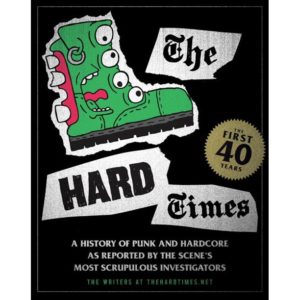 20) The Hard Times: The First 40 Years, edited by Matt Saincome, Bill Conway, and Krissy Howard
Here it is: the gold standard of music journalism, the apex of punk reportage, the essence of investigative excellence. Anyone who knows anything about punk or hardcore has already read this 100% real, definitely not satirical collection from cover to cover. If you haven't, we won't tell — just pick up a copy and get going. Our many hard-working writers will thank you.
Twitter: @JeremyPrice93